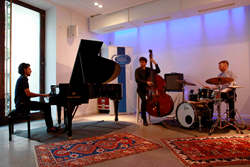 The traditional mugham music – which forms the basis for tonight's music – originates from this region that has been unlawfully occupied by Armenia for 20 years.
Berlin, Germany (PRWEB UK) 4 July 2014
On 3 July, more than 300 people attended the 'Summer Jazz and Politics 2014' event at Kunztschule at the invitation of the German Office of The European Azerbaijan Society (TEAS). The reception and concert by the talented young 24-year-old Azerbaijani pianist Isfar Sarabski took place only a few metres away from the historic 'Checkpoint Charlie' landmark and Berlin's famous Gendarmenmarkt, The guests included Bundestag members, diplomats, music journalists and selected members of Berlin society.
Isfar Sarabski performed in Kunztschule, constructed in 1904, located in the former Michaelsen Palais, which combines the historic charm of Berlin with a contemporary minimalist ambience. Isfar won the Solo Jazz Piano Prize at the Montreux International Jazz Festival in 2009, and performed alongside the regular members of his trio – Alexander Mashin (drums) and Makar Novikov (bass) – in front of an enthusiastic audience. Recently, Isfar has been on the international stage again with his performance at the MIDEM Festival in Cannes, and the TEAS-sponsored concert at the Festival Jazz Saint-Germain-des-Prés Paris.
Sarabski's programme included famous pieces such as his funky variations on Tchaikovsky's 'Swan Lake Ballet', Azerbaijani classics by jazz-mugham pioneer Vagif Mustafazadeh and compositions by Sarabski himself.
Presenter Leslie Nachmann from JazzRadio Berlin and Pro7 TV guided the audience through the evening, commenting: "TEAS has hosted the 'Summer Jazz and Politics' events since 2010. The concert has subsequently established itself as a highlight for German jazz fans who wish to experience the vibrancy and diversity of Azerbaijani music."
Shahin Namati, Director, TEAS Germany, said: "I am glad to see that, following the Bundestag election at the end of 2013, so many guests are joining us to experience this evening of inspirational Azerbaijani jazz music. The connection of tradition and modernity that is apparent in the jazz can be seen as being symbolic of Azerbaijan. Due to its diverse history, enormous economic and social prosperity has developed in Azerbaijan.
"Nevertheless, due to the ongoing Armenian occupation of Nagorno-Karabakh and seven surrounding districts, not all of the Azerbaijani population can benefit from this upswing, as there are more than 875,000 internally displaced persons (IDPs) and refugees spread across Azerbaijan. The traditional mugham music – which forms the basis for tonight's music – originates from this region that has been unlawfully occupied by Armenia for 20 years. Therefore, music – a cultural treasure – represents home for those people who are still waiting to return. That is why we dedicate this concert to the IDPs and refugees from Nagorno-Karabakh."