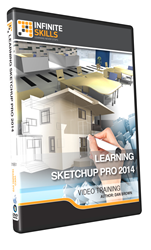 Learn SketchUp Pro 2014 at your own speed.
(PRWEB) July 04, 2014
Software training firm Infinite Skills Inc. this week introduced its "Learning SketchUp Pro 2014 Tutorial," an introductory course teaching the popular, easy-to-use functionality of the 3D modeling program for application in all types of professional design.
SketchUp Pro provides several inventive features that have made the program popular amongst amateur and professional designers. Its drawing layout functionality provides a user-friendly interface, making the program easy to learn, while its fully interactive 3D Warehouse provides an infinite world of models to incorporate in the user's designs.
Infinite Skills' Learning SketchUp Pro 2014 Tutorial teaches all the fundamental tools and techniques for getting started with SketchUp, providing a foundation of SketchUp skills that can be applied to any design practice.
Learning SketchUp Pro 2014 Video Training - Streaming
Course author Daniel Brown is a recognized expert trainer for SketchUp and currently runs his own 3D modeling and training service, DV-3D. After receiving his bachelor's degree in architecture from the University of Nevada at Las Vegas, Brown became a contractor for Google, working with SketchUp on Google Earth. He also wrote the curriculum and trained nationally for Google's SketchUp training program.
Following a brief introduction, explaining basic navigation features such as toolbars and working with templates, Brown starts with the basics of drawing in SketchUp, covering tools for creating lines, arcs, circles, and more.
The majority of the course consists of Brown guiding students through creating a 3D model of his own house. Students can follow along with working files, or use their own residence as a model as they work alongside Brown's lessons.
Brown starts by demonstrating roofs and roof-types, and moves on to measurements, model organization and view options, and continues through all the standard features of a house like doors and windows, kitchen installations, a fireplace, and more, as he teaches SketchUp's basic functionality.
Brown then demonstrates how to use the 3D Warehouse to import furniture models from its store of assemblies into the design, and how to finish the house by completing its exterior.
With the basic design complete, Brown dedicates several chapters to creating presentations with a SketchUp design, starting with a look at creating scenes and animations from the model, rendering a composite in Photoshop, adding lighting and reflections to increase realism, and, finally, creating a presentation using Layout.
"SketchUp is one of the most popular 3D modeling programs on the market," Brown says.
"This course will show you how to take sketches, photos, and dimensions, and build a model from the ground up, using techniques and specific workflows that will give you a good foundation for using SketchUp in any design application."
Free demo videos and a full list of course contents can be found on the Learning SketchUp Pro 2014 training page of the Infinite Skills website:
http://www.infiniteskills.com/training/learning-sketchup-pro-2014.html
Infinite Skills offers its Learning SketchUp Pro 2014 Training Video either as a DVD or a direct download from the company website at a retail price of $49.95. Though the compatibility of programs varies, all Infinite Skills titles and formats are compatible with both Mac and Windows operating systems, and shipping is available around the globe. Additionally, Infinite Skills tutorials are supported by project files which correspond to examples in the videos.
About Infinite Skills Inc.
A leader in the field of software training, Infinite Skills designs its courses on a task-oriented model, teaching complex skills by providing hands-on examples and guiding users as they carry out essential functions. Infinite Skills offers a wide range of software titles available as DVDs, digital downloads, and in iPad editions. Infinite Skills now offers a subscription service, providing access to all its training content for a monthly fee, keeping with company's aim of delivering professional training to customers anywhere they want to learn.