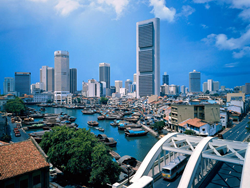 "We see Singapore as a strategic location for doing business locally and in Asia Pacific."Lorne Goloff, VP, TEC Selection Services Group
Montreal, Canada (PRWEB) July 09, 2014
To expand its presence and enhance client experiences in Singapore, TEC has joined forces with Fusion Consulting Services in a consulting partnership. TEC's expertise, state-of-the-art technology (TEC Advisor™), and proven methodology in software evaluation and selection combined with Fusion's client-focused strategy and approach will extend quality software selection and advisory services to businesses in the Singapore market.
Based in Australia, with an office in Singapore, Fusion provides consulting advice delivered by small, sharp solution teams to corporations and agencies. Fusion is pleased to be granted the right to deliver TEC services in Singapore, a market they are familiar with and are intent on expanding further into.
Since 1993, TEC has helped organizations find best-fit software solutions through a unique approach that combines a proven software selection methodology, extensive knowledge bases, top decision support technology, and industry experts. With this new partnership, TEC will transfer its knowledge to Fusion to enhance business opportunities relating to evaluation and selection services in Singapore.
TEC is confident that having Fusion as a consulting partner will deliver significant value to the marketplace. The partnership offers a great opportunity to provide quality software evaluation and selection services to businesses in Singapore. Adds TEC's VP of Selection Services Lorne Goloff, "We see Singapore as a strategic location for doing business locally and in Asia Pacific, and we're pleased to be joining forces with a partner who knows the market as well as Fusion."
About Technology Evaluation Centers (TEC)
Technology Evaluation Centers (TEC) is a software advisory firm helping private and public sector organizations around the world make informed enterprise software decisions—saving time, money, and heartache. TEC's online Evaluation Centers, containing IT research and extensive software models that catalog vendors' support for thousands of enterprise software features and functions, are the leading resource for IT decision makers around the world. By combining the online evaluation centers and providing onsite personalized advisory services, TEC has developed its offerings and solidified its unique position operating in the cross-section of the software consulting, analyst, and research markets.
About Fusion Consulting Services
Fusion was established in 2007 by Nick Gray after a career with a tier one consulting company and large global corporate experience. The success of Fusion is founded on the quality, experience and teamwork exhibited by the consulting team. Fusion clients prefer a blended team approach which aligns with Fusion's preferred engagement model. Their senior consultants enjoy new challenges and engaging with client executive and staff. Fusion offers vendor selection and implementation services for a number of large organizations in mining, oil and gas, government and utilities. Fusion also provides a number of business improvement services. Fusion services compliment TEC's primary services offering very well and forms the basis of a strong partnership.