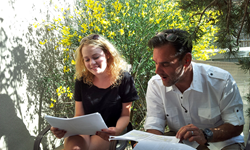 "A resonant exploration of regret and redemption."– LA Weekly
Santa Fe, NM (PRWEB) July 07, 2014
In the latest production by the For Giving Productions Ensemble, "Slowgirl" by Greg Pierce, centers around a teenager (Tatyana Stravrowsky) who flees to her uncle's isolated retreat (Christopher Dempsey) in Costa Rica to escape the aftermath of a harrowing accident. Soulfully directed by Janet Davidson, the Santa Fe premiere examines the ways in which these two lost characters navigate their own contrasting philosophies on life while coming to terms with a maze of regrets. The play is full of sharp humor artfully performed by Stravrowsky and Dempsey, both recently seen in For Giving's highly successful staged reading of "Rapture, Blister, Burn".
The two hander is beautifully crafted and keeps audiences on the edge of their seats as the compelling stories are revealed and the relationships deepen with an edgy pulse. 'Becky', in typical teenage fashion, hammers her witty, contemporary speech while unfolding the details of the tragic accident that led her to reunite with her reclusive uncle and get her off the hot seat at home. 'Sterling', Becky's uncle, gradually reveals a tragedy of his own that caused him to withdraw from the world. The safe, reclusive world he has created is disrupted by the teenager in ways that neither could not see coming. As they peel back the layers of confusion and hidden emotion, the play reminds us that escape is easy but redemption is hard.
"Slowgirl" by Greg Pierce, directed by Janet Davidson, starring Tatyana Stravrowsky and Christopher Dempsey, will be performed in the Warehouse 21 theater on August 2nd and August 9th at 7:30pm and on August 3rd and 10th at 4:00 pm. Tickets are $13.00 and $10.00 for students and seniors. Call 505-438-6078 or go to http://www.ForGivingProductions.com.
ForGiving Productions. owned by Janet Davidson, is an LLC, bringing theatre pieces, which especially impacts women, to New Mexico. For Giving Productions~ Giving Voice to Women Through Theater. Ms. Davidson can be reached at 505 438 6078/ 505 699 8501 or info(at)forgivingproductions(dot)com.