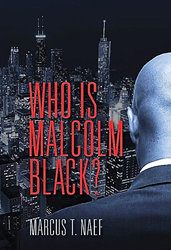 (PRWEB) August 01, 2014
The tension mounts as his bold actions of revenge gain the attention of the authorities. Meanwhile, Black reaches out to his former girlfriend and to the son he abandoned. With the FBI closing in, will Black's return bring him everything he's always wanted, or will he be cornered by the feds?
This explosive thriller crosses all boundaries as it exposes the underbelly of drug cartels. Explore the dangerous world in which their murderous deals are played out in the dynamic novel Who Is Malcolm Black?
Who Is Malcolm Black? (ISBN: 978-1-60860-876-8) is now available for $31 and can be ordered through the publisher's website:
http://sbpra.com/MarcusTNaef or at www(dot)amazon(dot)com or www(dot)barnesandnoble(dot)com.
Wholesalers: This book is distributed by Ingram Books and other wholesale distributors. Contact your representative with the ISBN for purchase. Wholesale purchase for retailers, universities, libraries, and other organizations is also available through the publisher; please email bookorder(at)sbpra(dot)com
About the Author: First-time author Marcus T. Naef was born in Nassau, Bahamas, and at a young age moved to Miami, Florida, where now lives and works.
Strategic Book Publishing and Rights Co, LLC