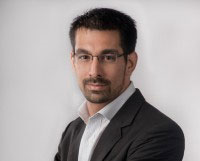 Our vision is to stay accessible and always hands-on for our clients.
Toronto, ON (PRWEB) July 08, 2014
Chartered Professional Accountants Fabio Campanella and John Paul McDonald have relocated their main office from the Toronto suburb of Woodbridge to the town of Oakville. "We had outgrown our office space in Woodbridge," said partner Fabio Campanella, "and we feel fortunate to have found this lovely and well-situated office in Oakville." To further add to client service and convenience, Solmaz Campanella has taken the helm as office manager.
Campanella McDonald LLP is a boutique professional services firm with clients located across the Greater Toronto Area. They specialize in small to midsize owner-managed businesses, and their resources include, in addition to the two founding partners, an in-house Chartered Business Valuator and strategic partnerships with attorneys, bankers, insurance professionals and real estate consultants. Fabio Campanella is the lead financial advisory partner and John Paul McDonald is the lead assurance partner in the firm.
"It has been a very good complement of talents and experiences," said Campanella. "John Paul brings a great depth of knowledge in accounting, tax, and financial mechanics for entrepreneurs, real estate developers, and startup companies. My range of experience covers various industries, multinational corporations, not-for-profits, major financial institutions and professional athletes. More recently I have focused on tax and wealth advisory for self-employed professionals and owner-managed businesses. We enjoy our respective arenas and our vision is to stay accessible and always hands-on for our clients."
As recently as June 23, 2014 Canada's numerous accounting bodies completed long-debated merger approvals and agreed to combine under the single designation of Chartered Professional Accountants. In the past, the different accounting titles sometimes indicated different services offered, for example, a Chartered Accountant might be called in only to perform an external audit. "When John Paul McDonald and I started our firm, we agreed that our work would be all about whatever our clients needed," said Fabio Campanella, "and for those client needs beyond the parameters of tax work, accounting and advisory we have partnered with other professionals whose service standards are equally as high as ours." Campanella McDonald LLP also use their recently redesigned website to offer useful accounting tidbits (see Tax Tip Tuesdays in the blog under the Media tab.)
The new Campanella McDonald LLP office in Oakville celebrated its opening recently, and the Woodbridge office will also remain open. It was announced in conjunction with the new office that the new service of financial statement audit and review is now available. Questions about Campanella McDonald LLP services and partners can be directed to office manager Solmaz Campanella in the Oakville location.
About Campanella McDonald LLP
Campanella McDonald LLP is a boutique accounting firm under the direction of Chartered Accountants Fabio Campanella and John Paul McDonald. Each partner has a rich background of experiences in the finance arena, and they specialize in Assurance, Advisory and Tax advice for owner-managed enterprises. They also have strategic partnerships with professionals in insurance, law, banking and real estate to complete their portfolio of services.
Contact Information:
Fabio Campanella, CPA, CA, CFP, CIM
Campanella McDonald LLP
2896 South Sheridan Way Unit 202
Oakville, ON L6J7G6
1 416 618-3119
info(at)cmllp(dot)com