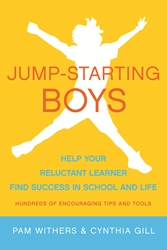 "An excellent contribution to the existing body of literature, full of practical tips on how parents can help their sons achieve their best academically."—Library Journal (starred review), Julia M. Reffner
(PRWEB) July 05, 2014
With summer in full swing and the kids out of school, now is the perfect time for parents to improve their relationships with their children before the busyness of fall returns. Whether looking to jump-start children's reading or encourage an open and trusting relationship, Viva Editions' parenting audiobooks, Jump-Starting Boys by Pam Withers and Cynthia Gill and The Available Parent by Dr. John Duffy, offer accessible advice for every parent.
Everyone knows that boys are falling behind in education. Largely left out of the discussion are parents of boys, who are most aware that their bright, eager sons hit an invisible wall somewhere near fourth grade, after which they become disengaged, discouraged, and disaffected. There are dozens of books on underachieving boys, but most parents brave enough to lift one off the shelf are instantly intimidated by the footnotes, graphs, case studies, and academic-speak addressed almost entirely to educators. What about the average guilt-ridden, frustrated mother or father of an underachieving boy?
Jump-Starting Boys by Pam Withers and Cynthia Gill, MA, LMFT, is the first book on the market that empowers parents, helping them reclaim the duties and rewards of raising their children and navigate the influences of school and media. Filled with reassurance and support, the authors turn fear and guilt into can-do confidence. Through easy tips and action list sidebars, this is the most practical, readable book on the topic.
We have a tendency today to over-parent, micromanage, and underappreciate our adolescents. Dr. John Duffy's The Available Parent is a revolutionary approach to taking care of teens and tweens.
Teenagers are often left feeling unheard and misunderstood, and parents are left feeling bewildered by the changes in their child at adolescence and by their sudden lack of effectiveness as parents. The parent has become unavailable, the teen responds in kind, and a negative, often destructive cycle of communication begins. The available parent of a teenager is open to discussion, offering advice and solutions but not insisting on them. He allows his child to make some mistakes, setting limits, primarily where health and safety are concerned. He never lectures - he is available but not controlling. He is neither cruel nor dismissive, ever. The available parent is fun and funny and can bring levity to the most stressful situation. All of that is to say, there are no conditions to his availability - it is absolute.
About Viva Editions
Viva Editions are books that inform, enlighten, and entertain. The very name, "Viva!", is celebratory. And while Viva Editions is a line of books that are as fun as they are informational, the intention behind Viva is very serious—these are books that are truly helpful and intended to enhance people's lives.