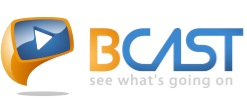 (PRWEB) July 07, 2014
BCAST, a social media broadcasting platform set to transform how individuals access live events and activity, today announced it has engaged leading sports marketing and management company, Wasserman Media Group, to assist in business development, relationship building, and introducing the platform to influencers across professional sports, including athletes, teams and leagues.
BCAST, a startup that enables viewers to create channels and broadcast their own live streaming videos at any time, is set to launch a new social media personal broadcasting platform later this summer that uniquely provides a point-of-view (POV) broadcasting capability distributable to and from mobile devices, the Internet and TV.
"We are thrilled that Wasserman has elected to partner with BCAST as we introduce live streaming POV broadcasting to professional sports," said Mike Hodge, CEO of BCAST. "Imagine, for example, the enhanced experience of enabling a fan to tune into a live point of view BCAST of a caddie interacting with a pro during a major tournament – from any mobile device and at any time. This is the impact BCAST can have across the sports industry, and Wasserman's industry relationships and global reach will allow us to execute on this vision."
"We are excited at the prospect of introducing the BCAST live streaming broadcast platform to professional sports," said Malcolm Turner, Managing Director of Wasserman Media Group. "This new broadcasting capability will greatly enhance the fan experience through new and intimate POV broadcasting and has the potential to change the way we watch sports programming, all while further extending and monetizing players' and owners' brands."
About Bcast.com
Formerly known as Fullcircle Geosocial Network, BCAST is debuting this summer its new social media video broadcasting platform providing keyword searchable and location-relevant live streaming video broadcasting capability to/from mobile devices/wearable computing devices and the web. The BCAST platform provides a seamless way to broadcast live streams and incorporate them into work, life or social media experience. For additional information, visit http://www.bcast.com.
About Wasserman Media Group
Founded in 2002, Wasserman Media Group is a global sports, entertainment, marketing and management company with expertise in media rights, sponsorships, brand consulting, athlete management, digital, creative and events. Wasserman is headquartered in Los Angeles and also has operations in Carlsbad, London, Miami, New York, Raleigh, São Paulo, Singapore, Toronto, Doha and Dubai. For more information, please visit http://www.wmgllc.com.