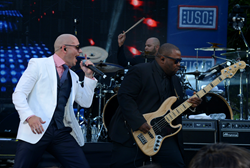 Today, as we celebrate our independence with our families and loved ones, it is important to remember that we are able to do so because of the service of…our men and women in uniform and their families. - John I. Pray Jr.
Arlington, VA (PRWEB) July 05, 2014
Twitter Pitch: Troops celebrate #FourthofJuly with @whitehouse and @the_USO concert with @pitbull http://bit.ly/VqYyJk.
Troops and military families gathered on the White House South Lawn for the sixth annual "Salute to the Military" event. The daylong Independence Day celebration was an opportunity for military families to come together and celebrate the everyday freedoms made possible by the service and sacrifice of our U.S. armed forces. Complete with traditional summer barbecue fare, family-friendly activities and a 60-minute USO concert by megastar Pitbull, the day capped off with an evening display of fireworks from the nation's capital, making it a moment our troops and their families won't soon forget.
Details:

To date, the "Salute to the Military" USO concert event has lifted the spirits of more than 7,200 troops and military families.
The White House hosted the first "Salute to the Military" USO concert in 2009 with Jimmy Fallon, Michelle Branch and the Foo Fighters. Last year's event included a USO performance by Grammy Award-winning band fun.
Past USO "Salute to the Military" concerts included appearances and performances by USO celebrity volunteers Cedric "The Entertainer," The Killers, Brandi Carlile, Train, Amos Lee and Brad Paisley.
This past November, the USO launched its "Every Moment Counts" campaign, a national campaign inviting Americans to join the USO in honoring and creating moments that matter for our troops and their families. Visit USOmoments.org to find out more about the campaign.
In April 2011, the White House launched Joining Forces, an ongoing initiative led by First Lady Michelle Obama and Dr. Jill Biden, calling for Americans to show their support for military families. Click here to find out more about how you can help support the initiative.
Pitbull released his first studio album M.I.A.M.I. in 2004 and has sold millions of digital singles including his double-platinum smash "I Know You Want Me." In 2013, Pitbull took home the Latin Grammy for Best Urban Performance and most recently he performed the World Cup anthem at the 2014 World Cup opening ceremony.
Quotes:
Attributed to John I. Pray Jr. Interim USO President and CEO:
"Today, as we celebrate our independence with our families and loved ones, it is important to remember that we are able to do so because of the service of a very special group of Americans…our men and women in uniform and their families. Gratitude is a USO core value and we are honored to join the White House in showing our appreciation, on behalf of all Americans, for all they do for all of us. We are thrilled to be able to bring Pitbull, one of today's most popular recording artists to perform at such a special venue. I would like to thank President and Mrs Obama for opening their home, as they have for the past five years, for this special tribute."
Attributed to Pitbull:
"Next step La Casa Blanca, it was an honor to play at the White House. This is the American Dream. Thank you to all for making this happen – our troops, the USO and the Obama family—I deeply and truly appreciate it."
To view photos from today's concert click here. For video click here. To find out more about how the USO's programs and services help to enrich the lives of our troops and families, visit us online at http://www.uso.org.
About the USO
The USO lifts the spirits of America's troops and their families millions of times each year at hundreds of places worldwide. We provide a touch of home through centers at airports and military bases in the U.S. and abroad, top quality entertainment and innovative programs and services. We also provide critical support to those who need us most, including forward-deployed troops, military families, wounded warriors, troops in transition and families of the fallen. The USO is a private, non-profit organization, not a government agency. Our programs and services are made possible by the American people, support of our corporate partners and the dedication of our volunteers and staff.
In addition to individual donors and corporate sponsors, the USO is supported by President's Circle Partners: American Airlines, AT&T, BNSF Railway, Clark Construction Group, LLC, The Coca-Cola Company, Grand Canyon University, JCPenney, Jeep, Johnson & Johnson, Kroger, Northrop Grumman Corporation and TriWest Healthcare Alliance and Worldwide Strategic Partners: BAE Systems, BIC, The Boeing Company, ConAgra Foods, FedEx, Lockheed Martin, Microsoft Corporation, Procter & Gamble, TKS Telepost Kabel-Service Kaiserslautern GmbH & Co. KG and Wawa Inc. We are also supported through the United Way and Combined Federal Campaign (CFC-11381). To join us in this important mission, and to learn more about the USO, please visit uso.org.