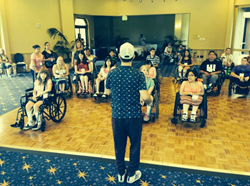 As long as I see smiles on faces, I know I'm doing something right.
Anaheim, CA (PRWEB) July 07, 2014
Aside from deploying fun, heart-pumping dance fitness combinations in local LA studios, GROOV3 founder Benjamin Allen was invited to teach his signature class at the National Spina Bifida Conference in Anaheim this week. A group of 20 eager teens, a majority in wheelchairs, gathered to learn the combination from the young professional. For most, learning a combination and dancing was a first-time experience. While some held back, others were quick to jump into the joy of movement and quickly adapted the GROOV3 motto, "Dance, Sweat, Live". Director Michelle Shelp said, "We didn't expect so many of them to participate. We're excited to see them use the moves at the dance tonight -- success!"
"As long as I see smiles on faces, I know I'm doing something right", says Allen. You can expect to see more classes like this from GROOV3 as they continue to demonstrate that dance is for everyone! Check out Allen teaching and getting into the GROOV3 with National Spina Bifida Conference teens by clicking here.
Spina Bifida is the most common permanently disabling birth defect in the United States. It happens when a baby is in the womb and the spinal column does not close all of the way. Every day, about eight babies born in the United States have Spina Bifida or a similar birth defect of the brain and spine. For more information, visit the Spina Bifida Association. Allen was thrilled to have the opportunity to bring GROOV3 to the SBA, continuing to make fitness fun and accessible.
GROOV3 is an all-levels dance community. Each class is an hour-long DJ-driven celebration of movement and fitness for all comers. Join us at any of our 12 LA area locations, our newest in West LA, Pasadena, and the Fairfax District. Visit our website for more info. The "3" in GROOV3 stands for Allen's motto, "Dance, Sweat, Live" – every class, every day, everyone!