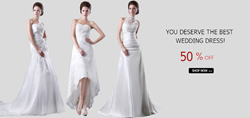 (PRWEB) July 05, 2014
FancyFlyingFox.com, a reliable supplier of women's apparel and accessories, such as wedding apparel, prom dresses, special occasion dresses, and so on. Recently, this company is excited to unveil its new graduation dresses. There are 87 items with all kinds styles and colors for ladies to choose from, and all these items are provided with deep discounts now, up to 50% off.
The product manager of FancyFlyingFox.com, said, "We are very excited to announce our excellent new selections for the young female graduates from universities. All these items come with high quality materials and fashion design. We are committed to providing clothing with excellent quality at reasonable prices to our customers all over the world."
The graduation dresses from FancyFlyingFox.com are famous for their wide variety of types. These new releases of graduation dresses will help ladies stand under the spotlight with various styles and items, including strapless type, one shoulder type, and cute short type, etc. FancyFlyingFox.com announces new items constantly, so if you want to buy the most popular clothes, you can continue to focus on their website.
There is no doubt that FancyFlyingFox.com has been a leader in the fashion industry. Customers can now buy dresses online with confidence.
About Fancyflyingfox.com
Fancyflyingfox.com is the global leading online retailer of wedding gowns, special event dresses, wedding party dresses, and accessories. Ladies can find a massive range of high quality wedding dresses, evening/prom gowns; flower girl dresses at Fancyflyingfox.com, which provides hundreds of dedicated items for global buyers.
For more details about the company and its dresses, readers can visit http://www.fancyflyingfox.com/graduation-dresses-c49/.