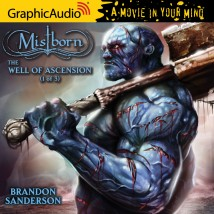 Mistborn has been challenging and rewarding to recreate in sound design, and further in a surround sound setting.
Bethesda, MD (PRWEB) July 08, 2014
Brandon Sanderson's fantasy titles are given new life on audio with surround sound and full cast recordings that include sound effects and music designed to intrigue your ears and excite your brain.
Director and Sound Designer, Nathanial Perry, says about working on the MISTBORN TRILOGY in GraphicAudio, "The world that Brandon has created and the inventive magic that he conceived has been challenging and rewarding to recreate in sound design, and further in a surround sound setting. It's been exciting to work on the Mistborn productions."
In THE WELL OF ASCENSION (the first of 3 in a series), we visit Brandon Sanderson's world of the Mistborn. Evil has been defeated. The war has just begun. The godlike being whose brutal rule lasted a thousand years has been deposed. Now Vin, the street urchin who has grown into the most powerful Mistborn in the land, and Elend Venture, the idealistic young nobleman who loves her, must build a healthy new society in the ashes of an empire.
They have barely begun when three separate armies attack. As the siege tightens, an ancient legend seems to offer a glimmer of hope. But even if it really exists, no one knows where to find the Well of Ascension or what manner of power it bestows. It may just be that killing the Lord Ruler was the easy part, surviving the aftermath of his fall is going to be the real challenge.
In addition to the Stereo version of WELL OF ASCENSION being available in Audio CD, MP3, M4B, and FLAC HD Download formats, GraphicAudio will offer the Surround Sound format in DVD as well as for the first time in 5.1 Surround Sound FLAC HD Download files.
About the Author:
Brandon Sanderson is a New York Times-bestselling author whose novella, THE EMPEROR'S SOUL, won a Hugo Award in 2013. ALCATRAZ VERSUS THE EVIL LIBRARIANS was optioned for film by DreamWorks Animation, MISTBORN was optioned by Paloppa Pictures, and a Mistborn video game was released by Little Orbit in 2013. Brandon's books have been published in over twenty languages.
About GraphicAudio®:
An imprint of The Cutting Corporation since 2004, GraphicAudio® has published approximately 900 titles and 60 different series in their GraphicAudio® A Movie in Your Mind® audiobook entertainment format. For more, visit: http://www.graphicaudio.net.