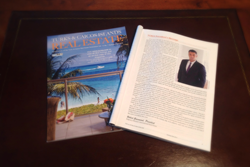 Come and visit our islands soon to find that perfect family retreat, that impeccable investment, that great commercial opportunity or your dream retirement home. We warmly welcome you to Turks & Caicos Islands!
(PRWEB) July 07, 2014
The President of the Turks and Caicos Real Estate Association has released his market report in the latest issue of the islands most influential real estate publication.
He is noted as saying that, "As we move through the first half of 2014 he looked back on the many changes seen in the Turks and Caicos Islands, but sees that what hasn't changed are the beautiful beaches, the sparkling turquoise waters, and the amazing investment opportunities. Throughout the Caribbean the global economic adjustments have been difficult over the past few years and the Turks and Caicos Islands have certainly not been immune to this, yet through its natural beauty, convenient location, security of investment and its tax haven status, we remain one of the top choices in the Caribbean region."
He went on to say, "Continued confidence in the Turks and Caicos Islands is shown with our gentle increase in overall realty sales activity across the market, and with visible motion everywhere in the country. Condominium sales are the fastest and most robust sector on the island with the high end villa market coming alive, and significant movement in large beachfront acquisitions for tourist development related projects. Very encouraging market factors on Providenciales include the Blue Haven Marina and Hotel newly operational, the construction ongoing for the Long Bay Shore Club, the new FBO of Provo Air Centre well advanced, and the refurbishment of the main international airport – all major projects which visibly confirm the healthy investment climate on island. The rejuvenation of the massive West Caicos development project, ongoing work with two developments on South Caicos, new homes for sale on Parrot Cay, renewed sales activity on Pine Cay, North and Middle Caicos all bolster our forward trend - plus the ongoing cruise ships stopping over in Grand Turk widely increase TCI visibility worldwide. As we proceed through the rest of the year I believe we will continue to see more positive real estate activity. Sellers are keen, good solid deals are possible and overall confidence in all market sectors is clear.
Full Story Can Be Found In ourThe Online Version of the Turks and Caicos Islands Real Estate Magazine or Turks and Caicos Real Estate Associations Presidents Blog
Enjoy our "Beautiful by Nature" Turks and Caicos Islands.
Robert Greenwood, President
Regency-Christie's International Real Estate