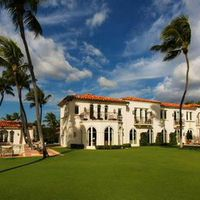 Pompano Beach, FL (PRWEB) July 07, 2014
"JFK's Palm Beach White House"
From: TopTenRealEstateDeals.com
Although the Kennedy family legacy is usually associated with Cape Cod and Hyannis Port, much of their early history and John F. Kennedy's presidency has strong ties to Palm Beach, Florida. Rose Kennedy made the area the family's favorite vacation destination as early as 1911, a few years after Standard Oil's Henry Flagler began to transform the Atlantic Ocean barrier island into a high society enclave of expensive hotels and mansions. Joseph and Rose took the family to Palm Beach for holidays and celebrations including Easter and Christmas. President Kennedy was particularly fond of Palm Beach. He loved the burgers at Hamburger Heaven that closed in 2012 and went to Sunday Mass at Saint Edward's Church where his favorite pew near the back of the church is marked with a "JFK worshiped here" plaque. A state-of-the-art bomb shelter was built for the President in 1961 on Peanut Island, a few miles from the Kennedy home. Palm Beach was where JFK wrote his inaugural speech, chose his cabinet officers and spent his last weekend with his family before the 1963 Dallas assassination.
La Guerida (translated as "bounty of war") was designed by society architect, Addison Mizner in 1923 for Rodman Wanamaker, heir to the Wanamaker's Department Store fortune, and was purchased by Joseph Kennedy during the Depression for only $120,000. The Kennedy children were teenagers then - Jack only 13 - enjoying their vacations there playing football on the lawn and diving in the surf. As the children grew and had families of their own, the house played host to all of the Kennedy clan. By the time it became the Kennedy Winter White House, though he never owned it, JFK would hold press conferences and presidential meetings inside the mansion. When he had a little free time, he would spend it playing golf at the Palm Beach Country Club and go sailing. He was also a member of the exclusive Palm Beach Everglades Club, also designed by Addison Mizner.
In 1995, the Kennedys sold the house to John K. Castle, chairman and CEO of Castle Harlan, a New York investment firm, for $4.92 million. At the time of his purchase, the house was in such disrepair, locals considered it a tear-down. Castle, however, spent $6 million restoring it over two years. On about 1.6 acres with 204 feet of oceanfront, the home has 11 bedrooms, 14 bathrooms, formal and casual rooms, tennis court, swimming pool and a four-car garage.
John Fitzgerald Kennedy's Palm Beach Winter White House, restored and updated, is for sale and has ranged in price from $120,000 in 1933, to $4.92 million in 1995 and is currently priced at $38.5 million. The listing agent is Lawrence Moens from Moens Associates in Palm Beach.
Visit TopTenRealEstateDeals.com for more celebrity, historic, famous and spectacular homes.