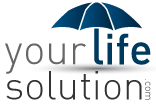 Chicago, IL (PRWEB) July 06, 2014
YourLifeSolution.com, a service which allows consumers to instantly compare the best rates on return of premium and conventional term life insurance products, has just published a graph which illustrates the disparity in cost between the two options. YourLifeSolution.com chose to do this because they believe that few people are aware of the return of premium option which is available to nearly all applicants. "It's definitely not an option that is ideal for everyone, but for someone who views life insurance as nothing more than a necessary evil, it makes a lot of sense to turn their policy into a forced savings plan rather than simply another price paid for peace-of-mind. The concept isn't available and would not work for term life insurance policies that are only 10 or 15 years in length, but a 30 year term policy on an exceptionally healthy person is often a more a savvy purchase when return of premium is added," said Eric Smith, the founder and independent life insurance agent of YourLifeSolution.com.
YourLifeSolution.com's future plans involve illustrating the long term differences between universal and whole life insurance, and showing the peril that can take place when consumers rely on their employer to provide their life insurance.
Said infogaphic is shown here: http://yourlifesolution.com/lifeinsurancequotes/return-of-premium-life-insurance-cost-compared-to-traditional-term-life-insurance/.
Consumers interested in finding the best rates on return of premium life insurance, term life insurance or universal life insurance are encouraged to visit YourLifeSolution.com. Information can also be obtained by phone at 888.374.2764.