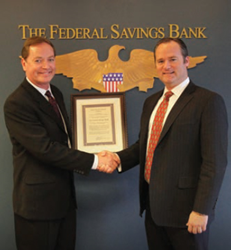 This deceleration in the economy is good news for the housing recovery.
Chicago, IL (PRWEB) July 05, 2014
On June 24, The Federal Housing Finance Agency released its Home Price Index for April. The Federal Savings Bank as well as other lenders like this index because it calculates trends based on mortgages sold or guaranteed by Fannie Mae or Freddie Mac, finding that prices were flat.
Compared to the previous month, there was no change. The stagnant price activity fell short of the 0.7 percent gain reported for March and the 0.5 percent projected for April. The Federal Savings Bank found that the year-over-year comparison showed more life, as there was a 5.9 percent increase from April 2013. While the most recent index is on par with its July 2005 level, it was 6.9 percent shy of its peak set in April 2007.
The latest activity points to a slowdown for home price appreciation. Similar trends were noted on the Standard & Poor's/Case-Shiller 20- and 10-city HPI, which showed small gains, with the former posting 0.2 percent month-over-month growth in April. This deceleration in the economy is good news for the housing recovery.
Giving home buyers a break
Rising property values have been a staple of the housing recovery. Despite the pace of appreciation, many consumers were able to purchase a home because of the numerous low cost mortgage options available. As a result, demand has been pent up, while sales have been mostly positive, with the exception of slower activity during the brutal winter that affected all sectors of the economy.
After some time, appreciation pushed home prices into the unaffordable ranges for many potential buyers, particularly first-time home buyers, and the slowdown can help them get back in the market. The Times said that appreciation needs to hit a sweet spot, which would put price growth at a pace that is mutually beneficial for buyers, sellers and builders.
"The healthiest thing for the housing market would be home price rises that thread the needle: high enough that homeowners are building equity and homebuilders have incentive to start new construction, but low enough that they don't significantly outpace wage growth and result in unaffordable housing and a painful correction," said the New York Times on June 24th in a release titled "Rise in Home Prices Is Slowing, and That's a Good Thing". The release goes on in saying "The April home price numbers suggest we may be heading there."
For information about low rate mortgage options and first-time home buyer programs that can help you get the financing you need while price growth is decelerating, contact the Federal Savings Bank, a veteran owned bank.