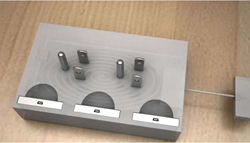 ChargeBase is the perfect addition to any device charging and accessory line.
Nashville, TN (PRWEB) July 08, 2014
Standard charging cables that come with different electronic devices can be short and become easily frayed over time. These charging cords can become easily intertwined and tangled during the charging process. Additionally, these charging cords may be lost or misplaced, leaving the user with no charging options and forcing them to purchase another cord. If one outlet is occupied by a device charger, only one other outlet is left for other purposes.
ChargeBase is a device used to free up additional wall outlets while still charging multiple handheld electronic devices. The charging station provides additional outlets while not reducing the number of ports. The charging base is rectangular with a pair of electrical prongs on the back side of the device and a pair of receiving outlets on the front face. The back prongs are placed inside an existing wall outlet to power the charging station. An upper surface features a removable charging pin which charges the device. Additional interchangeable charging pins can be installed on the back side of the device, removable for charging different types and brands of electronic devices. The bottom portion of the charging station includes two female USB ports. The charging pin is connected to a retractable cord which fits inside the base station. The retractable cord allows for electronic devices to be used during the charging process. ChargeBase can be constructed using durable, long-lasting plastic and general electrical materials. Other suitable materials may be used in construction of the device. A standard embodiment of the device may measure approximately 3" in length, 0.8" in width, and 4.8" in height. The device can be adapted for US 3-pin plugs. Exact size, measurement, and construction specifications may vary upon manufacturing.
For access to portfolio, follow the links below:

Click on the Inventor Login tab on our homepage
Click on the Are You A Guest link
Enter the Guest information:
ChargeBase
Guest User ID - Guest021478
Guest Password - RI214784