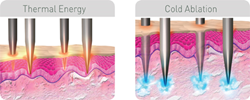 "With the Pollogen LEGEND+ I can totally achieve the results my patients and I desire. The facial dermal volumizing and wrinkle reduction results are exceptional. .."Michael H. Gold, M.D.
Tel Aviv, Israel (PRWEB) July 08, 2014
Pollogen Ltd. has announced plans to unveil their new VoluDerm™ treatment at THE Aesthetic Show in Las Vegas on Friday, July 11th, 2014. THE Aesthetic Show is the leading multidisciplinary medical education meeting that brings new procedures, products and technologies to an elite audience of medical aesthetic professionals. Nashville-based board-certified dermatologist and dermatologic surgeon Michael H. Gold, M.D. will be presenting a workshop during the show called "VoluDerm - Revolutionary Micro-needle RF Technology: Dermal Volumizing, Acne Scars and Stretch Marks". VoluDerm is a cutting-edge technology that has been clinically proven to reduce the signs of aging and regenerate the skin. Treatment is fast, with minimal discomfort and no downtime.
Friday July 11, 2014
Session One: 1:00 pm – 2:00 pm, Room: Latour 6
The full potential of micro-needle radio frequency (RF) technology has been realized in VoluDerm. Combining the best aspects of micro-needling and radiofrequency in one delivery system, you can now add dermal volume, treat acne scars, tighten skin, erase stretch marks, and more. The treatment is safe and effective for all skin types with no topicals, no pain, and no downtime. VoluDerm is incorporated exclusively in the Pollogen LEGEND+ aesthetic system that combines two powerful technologies, VoluDerm and TriPollar 3rd generation RF technology for skin tightening and wrinkle reduction.
Pollogen will be showcasing VoluDerm technology with Lumiere Medical at booth 634 at the Aesthetic Show.
About Pollogen
Pollogen is the developer and manufacturer of six revolutionary technologies under the industry premier brand names TriPollar®, OxyGeneo™, Hybrid Energy™, VoluDerm™, TriLipo® and TriFractional™. They offer a full line of clinically-proven, safe and effective, non-invasive anti-aging facial and body contouring treatment platforms for a wide range of aesthetic applications. Pollogen provides solutions for professionals in over 60 countries, addressing the specific needs and dynamic changes unique to the ever-evolving aesthetic industry. They are committed to the safety of their customers and to product excellence. They adhere to strict international and national regulatory and quality assurance standards.
About Lumiere Medical
Lumiere Medical is the premier US distributor of innovative, science-based and clinically validated technologies that enable aesthetic physicians the opportunity to generate new revenue opportunities through their practices. By focusing on products that deliver immediate and measurable results, Lumiere Medical only distributes products that deliver a consistently high level of patient satisfaction.