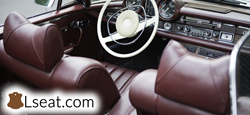 (PRWEB) July 06, 2014
Many car manufacturers have stopped making replacement parts for the cars which are no longer in production. Mercedes is no exception. As a result, it is hard for many car owners to replace leather seat covers for their favorite cars. Today, Lseat.com, a reliable wholesaler and retailer of leather seat covers, introduces its new arrival 280SEL W108 leather seat covers, which are specially designed for Mercedes 280SEL W108.
To assure the product quality, the company uses only superior cow leather to make these seat covers. To make the new replacement covers with great fitment, Lseat.com increases the cover's backing foam for the vintage cars like 280SEL. Its dedicate designers have done a lot of marking research before launching the new collection. Car owners don't need any additional sewing in the installation, which can be completed with a few hog rings and regular tools only. User can either install the seat covers by themselves or with the help from a local auto upholstery shop.
The CEO of the company states, "We are proud to introduce our new collection of Mercedes Leather seat covers to our customers worldwide. Our experts select cart parts exclusively from the world's leading auto parts manufacturers to provide the global clients technically correct parts of the very best quality. Also, custom designs are available at our company now. True enough, our leather seat covers are popular in the international market. I believe that the special offer will make more potential customers know about our products and brands."
About Lseat.com
Lseat.com is a globally accomplished supplier of leather seat covers, and this company has developed into a modern enterprise that offers its customers around the world a one-stop seat cover solution. The business is committed to providing premium quality products at competitive rates. Now, it has been serving more than 3000 customers from over 70 countries.
For more information about their leather seat covers, please visit http://www.lseat.com/.