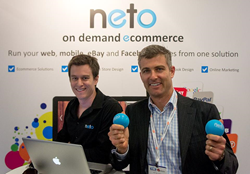 Within a few days of our initial consultation Neto were able to provide a working prototype demonstrating how they could import our very complex and large dataset in just a few hours
Brisbane, QLD (PRWEB) July 07, 2014
Australian eCommerce software provider Neto is offering 10% off data migration fees and 3 months off license fees to help merchants affected by the shutdown of Magento Go and ProStores.
Around 10,000 online merchants have been left stranded, looking for alternatives in the wake of eBay's recent announcement. According to a statement published on the Magento Go website (http://magentogo.com/) by Mark Lavelle, SVP, Product and Strategy, eBay Enterprise, customers have 7 months to migrate to another platform before Magento Go is shutdown altogether. "One of the most important issues facing these merchants will be migrating their data, and here at Neto we appreciate how critical it is to get it right," said Ryan Murtagh, Director at Neto. The second piece of the puzzle for these merchants will be price, and that's where Murtagh hopes that the waiver of 3 months' license fees will help alleviate some of the pain.
Rod Bland, owner of Ramcity.com.au, a former Magento merchant now using Neto's platform said, "Within a few days of our initial consultation Neto were able to provide a working prototype demonstrating how they could import our very complex and large dataset in just a few hours. At that point we knew we had found a company with real expertise and had no hesitation in committing to a project to deliver all of our requirements in around 6 weeks."
In addition to the special promotion and complete integration with eBay, Neto offers a host of other benefits: website design and discounted data migration service for existing merchants, seamless accounting integration with leading platforms, integration with all the leading Australian shipping carriers for real time quoting and labelling, and more. The company also recently completed integration with Xero, another major accounting platform provider.
Neto's cloud-based platform is hosted in Australia and provides a 99.99% uptime guarantee. With Neto, online retailers and wholesalers can setup an online store in just a few minutes and be trading within hours. For more information please visit http://www.neto.com.au.
About Neto E-commerce Solutions
Neto is a Brisbane based e-commerce platform provider. Neto's hosted, managed and serviced e-commerce software suite enables retailers and wholesalers, of any size, to develop and maintain powerful online stores that integrate with leading accounting platforms, payment gateways, shipping carriers and sales channels. Neto is used by thousands of retailers including Australia's largest eBay trader and household names such as Driza-bone, The Spotlight Group and Shaver Shop.
For more information contact Scott Warren, info(at)neto(dot)com.au, +61 (07) 3077 9696.