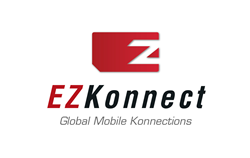 Facilitating Global Communication
Bordentown, New Jersey (PRWEB) July 08, 2014
Global Mobile Konnections LLC CEO, Arun Upadhyay, is pleased to announce the launch of their newest web presence, EZKonnect.com to help facilitate their new partnership agreement with Ultra Mobile as that latter company's new Authorized Online Master Agent.
Ultra Mobile, offers unlimited international talk, text, and data plans which include unlimited international talk to Canada, China, Mexico, and over 40 countries. EZKonnect.com will serve as an online sales and service portal.
Ultra Mobile is a nationwide mobile virtual network (MNVO), which develops mobile phone services that are technologically cutting-edge, and fashioned with an eye towards improving customer's phone interaction with loved ones regardless of where they live in the world. With features like international direct dial, unlimited global text, and call anywhere credit, Ultra Mobile is the go to solution for international communities in the US.
It is Ultra Mobile's philosophy that it should not cost an arm and a leg to keep in contact with friends and family, and their mobile messaging service, coupled to extremely affordable rates serves to do exactly that.
As the new Authorized Online Master Agent, EZKonnect.com is the place to go for a host of Ultra Mobile products and services like Ultra Mobile SIM cards, unlocked phones with great rates, and Ultra Mobile wireless plans.
The roll out of EZKonnect.com comes at the same time that Ultra Mobile announces a new pricing structure that is even more enticing with $29 and up plans including 1000 free international minutes across more than 45 international borders. These new pricing schemes are in keeping with the company's stated goal of, "providing convenient and affordable solutions that connect people with their extended families living around the world."
This new relationship with Global Mobile Konnections LLC gives online shoppers an authorized website to buy Ultra Mobile from a dedicated support team. Keeping the American Dream alive when their customers are far from home is at the heart of what Ultra Mobile and Global Mobile Konnections LLC hope to accomplish together. Affordable telecommunication options are a right that everyone should have and that is the operating philosophy behind the new partnership.
Ultra Mobile brings a talented management team to the table with more than more than two decades of telecommunication experience to the table. Global Mobile Konnections LLC is a well-established distributor with deeps roots in immigrant communities. "We look to Arun and his team to help spread the word about Ultra's amazing international calling and unbeatable prepaid plans," said CEO David Glickman. As the partnership between the two companies grows and matures, their customers can expect to become the beneficiaries of the great deals and services that are available.