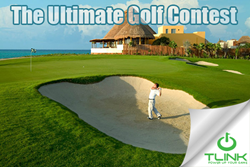 Calgary, Alberta (PRWEB) July 07, 2014
TLink Golf Inc. and SPRIZA are excited to announce the launch of 'The Ultimate TLink Golf Experience' contest. With the campaign officially launching July 4th,2014 and running for 3 months, through this contest, TLink Golf looks to engage the golf community in preparation of the upcoming release of their GPS Golf Watch.
TLinks' Ultimate Golf Contest will be offering a grand prize Mayan Riviera Golf package including:
– Airfare for four (4) to the Mayan Riviera, Mexico
– Five (5) nights Penthouse/Villa accommodations at La Escondida
– Three (3) days of golf

Eligibility: Winner must be of the minimum age of 18 and resident of Canada or the USA.
To participate, entrants can sign up at: http://www.spriza.com/contest/16 with the opportunity to win an OptiShot Golf Simulator. Once entered, contestants can invite three (3) friends to participate in the contents after which they will also be entered for the grand prize draw.
Contest entry will be available between July 4th, 2014 and October 4th, 2014, after which a winner will be randomly selected.
About TLink Golf
TLink Golf manufactures a lightweight bluetooth golf watch that pairs with a smartphone device to give golfers front, middle and back yardages to the green. With it's sleek, sophisticated, yet simple design, the TLink Golf watch is all about providing golfers with their essential golf yardage information in the most comfortable and convenient way possible.
For more information about TLink please visit: http://www.golftlink.com.
Also connect with TLink on:
Facebook: http://www.facebook.com/tlinkgolf
Twitter: http://www.twitter.com/TLinkGolf
Google+: plus.google.com/+Golftlink
About Spriza
SPRIZA™ is a social sharing contest marketing company that taps into the power of shared interests and personal relationships within targeted markets producing traceable and quantifiable results at every stage of the contest. SPRIZA™ provides its clients deep, real-time analytics and reporting, through a robust tool that measures marketing and advertising budgets for real time ROI analysis and demographic profiling. Because SPRIZA can leverage social strategies based on business objectives, branders are able to measure the results of their marketing efforts through this medium.