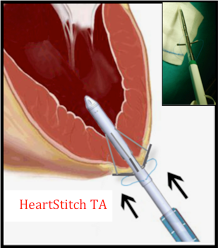 The HeartStitch TA success is just the beginning.
Fountain Valley, CA (PRWEB) July 07, 2014
HeartStitch, Inc. today announced that Prof. Anthony Nobles, CEO of HeartStitch, presented final results of 148 Porcine Transapical Closures treated with HeartStitch TA Access & Closure System. HeartStitch received positive reviews from cardiologists and cardiac surgeons including members of the panel as well as current NobleStitch EL users Dr. Mike Mullen and Dr. Niels Erik Nielsen who were present for the talk. The CSI congress is the most significant meeting for HeartStitch with over 800 of the top interventional cardiologists in structural heart coming together to share the latest in structural heart interventions. Both Dr. Mullen and Dr. Nielsen expect to perform HeartStitch TA procedures with their cardiac surgeons in the next few months in England and Sweden.
Prof. Nobles presented the results of the HeartStitch TA, which showed that the device was safe and effective for performing Transapical Access and Closure. The HeartStitch TA provides access through the apex of the heart, allowing physicians to perform structural heart interventions including valve repair and replacements.
Prof. Anthony Nobles commented, "The HeartStitch TA success is just the beginning; we have begun the trials on our first of 2 Mitral Valve repair devices, HeartStitch MR and HeartStitch AP, which we expect to present at next year's CSI as well as the data for the upcoming FIM and initial launch of HeartStitch TA. It's going to be an exciting year for all of us."
Ben Brosch, President of HeartStitch, commented, "These results coupled with the response of physicians reaffirms our belief in the product and market opportunity of the HeartStitch products. We expect to do First In Man (FIM) in the next couple of months and then launch into sales early next year with the HeartStitch TA."
About the HeartStitch TA™ System
HeartStitch TA is the first suture-based device that allows for access & closure of the apex of the heart during transapical structural heart procedures. The HeartStitch TA will enable a physician to place sutures into the myocardium and introduce a sheath for access to perform structural heart interventions including valve repair and replacement, then safely close the apex of the heart using the proprietary KwiKnot. The benefit of transapical access & closure provided by the HeartStitch TA will be the ability to perform more procedures on patients who cannot have open heart surgery, or whose vessels cannot support larger percutaneous devices through the femoral access.
About HeartStitch
With a focus in Structural Heart treatments, HeartStitch was founded to bring its established Femoral Closure and PFO Closure suture technology to the treatment of several structural heart applications including "Trans-Apical Access and Closure", "Mitral Valve Remodeling" and "Mitral Valve Annulplasty". HeartStitch is focused on solving the unmet needs in structural heart repair through development of platform technologies that perform structural heart procedures using known techniques such as suture, delivered in a less invasive method than standard surgery.