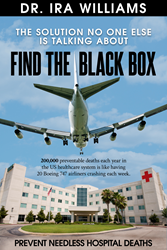 "Logic dictates that successful transformation first requires full understanding of the entity to be transformed."
Greenville, SC (PRWEB) July 08, 2014
National Governors Association (NGA) Health Division provides governors and their staff with policy analysis and information regarding health care issues, and one of their six core issue areas is Health Care Transformation (http://is.gd/lmyJt0). Dr. Williams urges each governor to consider his proposal for how to completely reorganize the delivery of health care in every state throughout the nation.
Dr. Williams says, "A study of the literature regarding the transformation of health care, and patient safety would reveal a failure by every source to demonstrate recognition of each state's responsibility to create, and maintain an effective health care delivery system. Reason; since all medical care is local, and states license doctors, each state's obligation to their citizens cannot be denied."
Example: "Even if you cured cancer you couldn't get it to the people because the medical system is broken." Dr. Spence Taylor, Greenville Memorial Hospital, Greenville Journal, April 2010. Both Governor Haley, and SC Legislature ignored, and continue to ignore that assessment of SC, and all 49 other current state health care delivery systems. Time will tell if NGA Health Division will be open minded toward new considerations.
Dr. Williams, author of Find The Black Box, his latest book on health care, has publicly announced, "I can provide a plan for a 21st century health care delivery system that would go far beyond anything previously imagined, and allow states to fulfill their obligation in health care to their citizens."
Continuing his series of Open Letters (http://is.gd/wdU2CM) Dr. Williams challenges each governor, and the NGA Health Division staff to recognize, and accept his offer to contribute to their efforts to transform health care in every state. Dr. Williams says, "Every state has legislatively created several agencies that were each mandated to regulate some portion of their state's health care delivery system. Yet no governor can lay claim to having an effective health care delivery system, and there are clearly evident reasons why each state's health care system is far less than it could, or should be."
Dr. Williams continues, "I can provide a logical, and doable process for any state to obtain a detailed picture of their current health care delivery system, identify that system's many flaws, and then be provided with a plan for the creation of a 21st century health care delivery system that is worthy of their citizens."