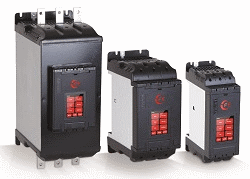 Soft starters are newly added in DrivesWarehouse.com - one stop online shop for all your AC, DC Drives' needs.
Dallas, TX (PRWEB) July 08, 2014
DrivesWarehouse.com has newly added Synergy soft start motor control products:
Range from 17-500A or 10-400HP
3-phase SCR
Full motor overload
Standard Trip Class 10: 3 x 23 secs or 3.5 x 17 secs - 3 or 5 starts per hour (other Trip Classes are available)
208, 230, 400, 480 volts
Allowing for varying frequency 45Hz-65Hz
IP20 / NEMA 1, IP00
Full automatic set up
Control voltages of 24VDC, 110/230VAC
iERS - intelligent Energy Recovery System as standard
In Delta / 6 wire connection
Multiple languages
Inputs / Outputs:

4 x programmable output relays
3 x programmable digital inputs
Analogue input / outputs
USB for data logging and parameter setting/saving
Thermistor
Fully field upgradeable
Comprehensive data logging
Fully field serviceable fans
The complete new products list is available for customers to search online at soft starters.
In order to provide better view of products, DrivesWarehouse also added $10.00 Gift Certificate On Google Review After Purchase, you can earn extra $10.00 gift certificate on top of our rewarded program.
DrivesWarehouse.com offers over 50 years of experience and know how in the electric motor drives business. They stock a wide variety of AC Drives and DC Drives from well known manufacturers like Hitachi, Polyspede, and HYUNDAI in a range of configurations. All products from driveswarehouse are backed by a 12 month warranty and expert tech support.
Drives Warehouse
One Stop Online Shop for AC Drives, DC Drives, Variable Frequency Drives (VFD) and Variable Speed Drives