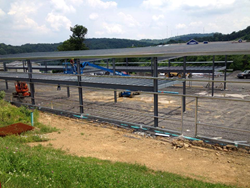 Where else in Morgantown can you find a sofa and loveseat for $499? It's hard enough to find a sofa for that price at our competitor's stores.
Morgantown, WV (PRWEB) July 07, 2014
With the diversity and ever changing landscape that Morgantown offers, another way of buying furniture is needed. Management at Chuck's Furniture will soon be opening just such a store. Pac 5 Furniture will be a value-oriented store that Morgantown has not had in recent memory.
Pac 5 will focus on value priced furniture above all else. In order to have deals that no other store will have, the buying team will be looking for discontinued items, manufacturer clearance sales truckloads and many other avenues. In order to offer even better prices, the sales team will focus on a cash and carry model. Delivery will be available but customers picking up will get huge savings.
"We've known for years that Morgantown could support a store like this," says James Prutilpac, the sales manager at Chuck's. "Pac 5 will be a place that anyone can shop. In addition to offering great every day prices on factory closeouts, we will also have items from Chuck's that have been discontinued and unique pieces from furniture markets when we get a good deal. This will be a great store for college students, first time home buyers, or someone simply looking for a unique piece or great deal."
Construction is going on now. Orders have been placed and the first trucks are set to come in at the end of July. Great deals that are just in time for August's college move in. Be on the lookout for Morgantown's new home for values.