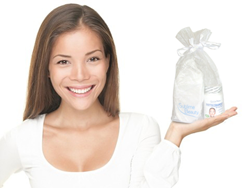 The new natural skin care kit is available at both Amazon and the Sublime Beauty webstore now.
St. Petersburg (PRWEB) July 07, 2014
Natural approaches are great in skin care, and now two great natural tools are sold together to benefit buyers.
"Our popular dry Skin Brush and the new natural Phytoceramides are sold together in a kit along with a downloadable guide about improving skin," says Kathy Heshelow, founder of Sublime Beauty®.
What to expect: Skin Brushing improves skin quality and tone as well as the immune system. Skin (the largest organ of elimination) is able to function better - and glows with good health. Phytoceramides deliver ceramides back to the skin so it becomes softer, plumper and younger.
The popular Skin Brush has been featured in Glamour Magazine, Beauty High, Urbanette and other magazines. Sublime Beauty® has a website devoted to Skin Brushing and learning all about how to do it.
"Skin Brushing is very easy to do - just 10 minutes per day to more healthy skin. It also boosts your blood circulation, improves the immune system, and reduces cellulite," says Heshelow.
Heshelow also recently published a book about Phytoceramides. "I realized that these are new to the U.S. and we are big on education and informing clients about the products and ingredients. The book does that in a simple way."
Phytoceramides replenish ceramides that diminish in the skin, responsible for moisture retention and barrier protection. Within a month, skin is more radiant and plump, but also healthier. The company offers guides and information on its special site here.
The new kit is available at Amazon now and also at the Sublime Beauty® webstore. The company offers free shipping, a VIP Club for points and the ability to sign up for Secret Sales.
ABOUT: Sublime Beauty® is a quality skincare company that focuses on products to "Age Younger". Products help to boost collagen, hydrate, relax wrinkles and improve skin. A niche includes healthy Skin Brushes.