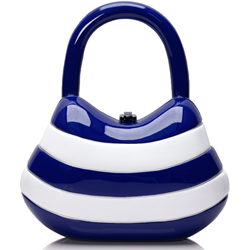 San Jose, CA (PRWEB) July 08, 2014
Handbag Culture is pleased to announce that their fine handbags are now available online for wholesale and retail purchase. These elegant bags are hand-crafted from the finest materials, including sustainable acacia wood, cotton, silk, leather and hand-loomed fibers such as jute, raffia, and buntal. Handbag Culture has also added a versatile synthetic line fashioned from hand-crocheted supple plastic threads. Each clutch, cross-body and handbag is made individually by hand and produced in limited quantities.
The Stacie (in cobalt blue and white), The Antonia (natural wood finish) and the Spiral Bag, which clients have nicknamed the Happy Bag (yellow crocheted synthetic threads with multi colors), are representative of a line that features timeless designs that are sophisticated and practical. The rich, smooth finish of the wood or the texture of the raffia, the hand-beaded clasps, even the crisp click of the metal kiss-clip let you know that you are holding a work of art that you will use and treasure for a very long time.
Handbag Culture is committed to providing their clients – retail and wholesale – with impeccable customer service.
About Handbag Culture
The creative forces behind Handbag Culture are sisters Agnes Borja-Gaudette and Chona Borja. Based in Manila, Philippines, Chona and another sister Ria oversee the production side, working closely with local artisans from design to finish. California-based Agnes handles product marketing and distribution in the US and Canada. Scott Gaudette, Agnes' husband, handles operations, website and tech functions, logistics and planning for tradeshows.
Agnes and Chona are third generation fashion entrepreneurs. Their paternal grandmother started and grew a very successful embroidery business in the Philippines years ago, and when Agnes and Chona's mother Myrna, a forward thinking entrepreneur, married into the family, she diversified and expanded the business to a full line of children's and ladies' clothing, adding global distribution and retail outlets.
While the corporate world held the sisters' attention for a while, entrepreneurship eventually beckoned. Using their innate garment industry expertise and their corporate savvy, the sisters started selling fashion accessories from Europe and the U.S. to private clients and holiday boutiques. After three years, they decided to design their own handbags and have them made by artisans known for their high quality workmanship in the Philippines.
Myrna lived to see her daughters' venture and she was delighted that they based the manufacturing in the Philippines. She believed that giving back and helping the artisans back home was an important part of success.
The sisters continue to follow their late mother's lead in focusing the business mainly with small communities and small boutique manufacturers. Agnes and Chona see Handbag Culture as a way to honor their mother by continuing her mission to generate jobs, share knowledge, help artisans grow their business and provide a better life for their families. And, in the process, create absolutely beautiful handbags for discerning clients.
Handbag Culture is available through the company's website and at specialty boutiques, resorts, hotels and spas, art galleries and museums across the country.
Handbag Culture
San Jose, CA
(855) 841-8400