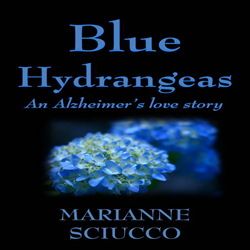 It will make you smile, it will undoubtedly make you cry. - Susan Keefe, audiobook reviewer
Middletown, NY (PRWEB) July 08, 2014
"Blue Hydrangeas," Marianne Sciucco's award-winning Alzheimer's love story, has received a stellar review in the July issue of Audiobook Monthly, an innovative showcase for narrators, producers, illustrators & distributors, and a resource for authors & readers, including interviews and new releases.
Reviewer and CEO Susan Keefe wrote: "This is not a soppy romance, but rather a true celebration of the love between two people. I have no doubt that it will make you smile, it will undoubtedly make you cry."
"Blue Hydrangeas" is the sad but beautiful story of a pair of retired Cape Cod innkeepers struggling with the wife's Alzheimer's. Published in March through ACX (Audiobook Creation Exchange, an Amazon company), the book, narrated by Elinor Bell, is also a Kindle bestseller, IndieReader Approved, winner of IndieReCon's Best Indie Novel Award 2014, a Readers' Favorite, and a BookWorks "Book of the Week." Amazon readers give it an average of 4.7 stars, and it's hit number one in medical fiction four times.
"This is a poignant love story, beautifully written. If you have ever nursed or known anyone with Alzheimer's or Dementia this story will bring the memories flooding back," wrote Keefe.
Sciucco, a registered nurse and certified case manager, is also featured in an interview where she talks about her experience creating an audiobook and her collaboration with narrator/producer Elinor Bell.
"I love audiobooks, and I knew the story of Jack and Sara would appeal to others who enjoy them," she said. "There's something about having the story read to you, hearing the characters come to life in the hands of a gifted narrator. I knew all along that I wanted Blue Hydrangeas to be an audiobook as well as a print and e-book. I just needed to find the right producer and narrator."
Sciucco found that narrator and producer in Bell. "More than 20 narrators/producers auditioned for this book," said Sciucco, "but Elinor's professional approach and lovely voice captured me immediately. It was only after I contracted with her that I learned she also has first-hand experience with Alzheimer's. Plus, she loved the book, and I don't think an author can ask for much more than that." Bell also has extensive experience on stage, in film, and in commercials, voiceover, and audiobook narration.
Keefe writes: "Elinor Bell has a lovely voice, and her soft tones are perfect for this story."
"Blue Hydrangeas " is available in audio through Audible, Amazon, and iTunes. It is also available in paperback (Amazon), and as an e-book through Kindle, iBooks, Nook, Kobo, and other online retailers.
About the Author
Marianne Sciucco is not a nurse who writes but a writer who happens to be a nurse. A lover of words and books, she dreamed of becoming an author when she grew up, but became a nurse to avoid poverty. She later brought her two passions together and writes about the intricate lives of people struggling with health and family issues. A native Bostonian, she lives in New York's Hudson Valley and, when not writing, works as a campus nurse at a community college. She loves books, the beach, and craft beer, and especially enjoys the three of them together.