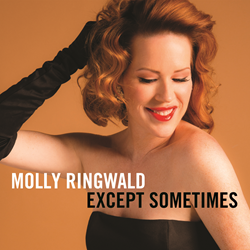 Described by The Huffington Post as a "silk-voiced jazz chanteuse"
Owings Mills, Maryland (PRWEB) July 14, 2014
America's sweetheart and 1980's teen idol, Molly Ringwald, will open the Gordon Center's 20th season on October 25th at 8:00pm. The Gordon is Baltimore County's premier performing arts center located on the campus of the Rosenbloom Jewish Community Center in Owings Mills, Maryland.
Described by The Huffington Post as a 'silk-voiced jazz chanteuse,' Ringwald will be accompanied by a jazz trio as she performs songs from her recent debut CD, "Except Sometimes," as well as other specially selected music, including her rendition of The Breakfast Club classic, "Don't You (Forget About Me). Click here to view her latest performance!
Ringwald grew up in a home filled with music and got an early appreciation of jazz from her dad, pianist Bob Ringwald. "Beginning at around age three I started singing with his band and jazz music has continued to be one of my three passions along with acting and writing. I like to say it is my equivalent of comfort food. It's always where I go back to when I want to feel grounded," Ringwald says.
An actress of both stage and screen, Molly Ringwald was cast in Paul Mazursky's film Tempest at age 13. The role earned Ringwald a Golden Globe nomination. She has since starred in numerous films including: The Pick-Up Artist, For Keeps, Fresh Horses, Betsey's Wedding, Jean-Luc Godard's King Lear, and the iconic John Hughes' movies: Sixteen Candles, The Breakfast Club, and Pretty in Pink.
Randi Benesch, Managing Director of the Gordon Center is thrilled to kick off the 2014-15 season with this intimate evening with Molly and her fantastic jazz trio. "We are proud to offer a rich variety of entertainment here at the Gordon," says Ms. Benesch. "We are always striving to bring top regional, national and international talent to our beautiful, 550-seat theatre, conveniently located in Owings Mills, MD."
The Peggy and Yale Gordon Center for Performing Arts offers an eclectic variety of professional entertainment in music, theater, dance, family programming and film. You will experience world-class acoustics in an intimate, state-of-the-art venue. Free parking in well-lit spaces, handicap accessible, and equipped with a special RF system for the hearing impaired, the Gordon Center can be enjoyed by all.