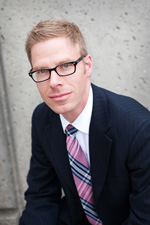 Jordan Wilcox offers a local, hands-on approach to battling tax problems.
Layton, Utah (PRWEB) July 08, 2014
When the IRS is beating down the doors of Utah residents, it creates stress and fear in their lives. Tax debt puts people at risk of losing their business, their home, and their quality of life. No one knows that better than Salt Lake City tax attorney Jordan Wilcox does. Now, he is launching a new website to give Utah residents faced with tax debt a resource for information and guidance on possible alternative solutions to their IRS tax burden.
The new website is written specifically for people faced with tax debt. It offers information that many people do not find out from the IRS on how they can overcome tax problems. Without using jargon or technical terms, the website informs people who are not well versed in tax law on their options and the potential consequences they could face if they do not take action. The website goes in depth—offering a library of articles, blog posts, and a news section to keep people informed on the latest happenings in the tax industry.
The website also provides answers to some of the most frequently asked questions about tax problems. Some of these questions include when and why hiring a tax lawyer makes sense, as well as what alternatives people can seek to reduce or eliminate tax penalties.
The Law Offices of Jordan F. Wilcox, P.C., is not a national firm. Tax attorney Jordan Wilcox works personally with each person who reaches out for help. Through a unique combination of compassion for what his clients are up against, as well as extensive knowledge of tax law, he offers a local, hands-on approach to battling tax problems. His proactive approach toward handling tax debt gives families and business owners the representation they need to overcome tax burdens and minimize the impact these problems have on their future.
By launching this new website, the team at The Law Offices of Jordan F. Wilcox, P.C., hopes to provide a local resource for information on Utah and federal tax laws. The website is fully loaded with a live chat feature to help people get in touch with the law firm whenever they need assistance. There is also a video library and other resources to help people find the tax information they need to come out on top of their tax burden. Attorney web marketing firm Foster Web Marketing designed the website.
About Foster Web Marketing:
Founded in 1998, Foster Web Marketing (FWM) offers attorneys, physicians, and other professionals across North America and overseas an effective online marketing approach that combines appealing and intuitive design with the latest search engine optimization, comprehensive marketing services, and content management strategies. FWM has proven that it is possible to build a "Made in the USA" business with excellent customer service in a very competitive market, all while helping its clients succeed through powerful websites and proven education-based marketing techniques using its proprietary "secret weapon," Dynamic Self-Syndication (DSSTM). To learn more, please visit http://www.FosterWebMarketing.com.