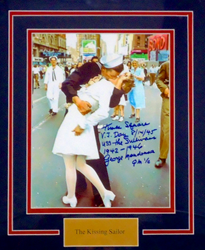 We are thrilled to have the opportunity to support such an outstanding organization and share our expertise in making the gala an overwhelming success.
Tampa, Florida (PRWEB) July 07, 2014
Memorabilia Magic recently provided the American Foundation for the Blind (AFB) with signed celebrity memorabilia, tickets, and experiences at the Helen Keller Achievement Awards' silent auction in New York City. AFB announced the recipients of its prestigious awards for their extraordinary efforts to expand possibilities and the quality of life for people who are blind or visually impaired. The black-tie gala was held at the New York Marriott Downtown, marking the 18th edition of the organization's fundraiser.
The Helen Keller Achievement Awards were established by AFB in 1994 to acknowledge Helen Keller's extraordinary contributions and promote the notable achievements of individuals and organizations that help people with vision loss. Amongst the recipients were the telecommunication giant, AT&T, and the biotechnology company, Genentech.
John Osterweil, founder of Memorabilia Magic, shared his thoughts, "We are thrilled to have the opportunity to support such an outstanding organization and share our expertise in making the gala an overwhelming success. We are passionate in our mission to create awareness and meaningful change in the world for people and causes in need. Providing out of the ordinary items for auctions is our chance to join together with organizations to collectively facilitate fundraising."
John Osterweil and his team work with fundraisers to identify specific pieces that would be of interest to their patrons for both silent and live auctions. From a Babe Ruth signed baseball, Muhammad Ali signed Boxing Gloves, a 1937 Slot Machine, a flight in a Jet Fighter, or tickets to a sports or red carpet event, silent and live auctions contribute greatly to maximize profits for charities. Even more notably, the company provides the items on consignment, freeing the charity of risks or costs. Memorabilia Magic even pays to ship the items to the charity event and often provides the set-up or management of the silent auction, leaving the organizers free to focus on their patrons. This extraordinary company donates to every event with whom it partners. Over the past year, Memorabilia Magic provided over 300 events with memorabilia, tickets, and experiences that enabled the charities and causes to raise millions of dollars toward solving today's toughest problems.
About Memorabilia Magic:
John Osterweil is a life-long, avid collector of just about everything – not to mention a man in action with a passion for social responsibility. Selling his service company in 1998, he was then free to focus on effective ways to effect meaningful change in the world. He thereby founded Memorabilia Magic. Memorabilia Magic offers autographed collectibles from sports, entertainment, politics, and history. The company also provides a range of classic experiences including VIP Tickets to monumental sporting events such as the Super Bowl, the World Cup, the Masters, the US Open Golf and Tennis Championships, the Emmy Awards, Tony Awards, MTV and Country Music Awards, the Macy's Parade, and much more. And for the adventurous - a Top Gun flight as a fighter pilot.
Memorabilia Magic's trusted tradition of excellence provides authentication and guarantees with all of their products to an expanding range of organizations, amongst them social, political, cultural, health, research, and environmental charities, schools, universities, hospitals, museums, symphony orchestras, zoos, and private companies that include The Ronald McDonald House, Special Olympics, Cystic Fibrosis Foundation, Make-A-Wish, Moffitt Cancer Center, Cerebral Palsy Foundation, Boomer Esiason Foundation.
For more than 16 years of service, Memorabilia Magic's core values have held strong: "We believe in creating meaningful change in our world; we believe in empowering people and organizations; we believe in being the best at what we do."