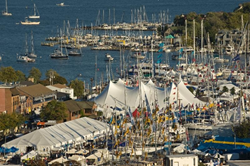 'We are excited to announce that for the first time brokerage sailboats will be on display at the United States Sailboat Show,' said Paul Jacobs, general manager of the Annapolis Boat Shows.
Annapolis, Maryland (PRWEB) July 08, 2014
New this year, the grand Annapolis sailboat show, the world's largest, will expand its impressive selection of new and premiering sailboats to include previously owned sailboats in a floating marina in St. Mary's Cove.
The United States Sailboat Show opens October 9-13, 2014, will feature Brokerage Cove, a show within a show, overflowing with previously owned sailboats presented by regional boat brokers and available for immediate sale. The brand new Annapolis venue is just inside the Spa Creek Bridge and one block from the main show.
Brokerage Cove is an easy walk from the hundreds of brand new and premiering boats on display in downtown Annapolis. Buses, land shuttles and water taxis will ferry attendees between the two venues and from parking lots to ticket booths ensuring easy access to Brokerage Cove. Show goers will cool off in fun and relaxing water taxis that will run continuously between the Annapolis City Dock and St. Mary's Cove.
Every October, serious sailors from around the globe gather on miles of docks in the historic seaport of Annapolis, Maryland for the internationally acclaimed United States Sailboat Show. The price of admission ($18) provides entry into both the United States Sail Show and Brokerage Cove.
2014 United States Sailboat Show Featuring Brokerage Cove
Show Information
October 9 - VIP Preview Day
10:00am – 6:00pm
October 10 - 12
10:00am – 6:30pm
October 13, 2014
10:00am – 5:00pm
VIP Preview Day $35
General Admission - $18
Children $5 (6 and under free)
Two-Day Ticket - $31
VIP Preview plus additional day - $48
The Annapolis Boat Shows, a premier event management company, has produced grand in-water boat shows since 1970. Today, more than 130,000 attendees from around the world come to the Chesapeake Bay region to experience these nautical extravaganzas.