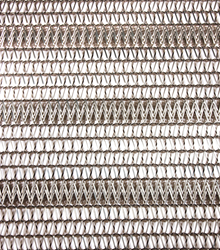 'By requesting a mix of standard Cambridge patterns, architects can achieve an overall design with a more interesting visual appearance. - Gary Compton, brand manager.
Cambridge, Maryland (PRWEB) July 08, 2014
Capitalizing on an emerging design trend, Cambridge Architectural will introduce Build-A-Pattern™ woven wire mesh products that architects can configure to create customized patterns. The company will offer Build-A-Pattern™ beginning in Q4 2014, and the Cambridge Architectural design team will preview it at Facades+ in Chicago, July 24-25.
"In recent years several architects have come to us with requests for multiple patterns within a mesh panel," said Gary Compton, Cambridge Architectural brand manager. "By requesting a mix of standard Cambridge patterns, some with tighter and some with more open weaves, they can achieve an overall design with a more interesting visual appearance and achieve varying degrees of light passage through the mesh panel."
Solar shading is a primary use of Build-A-Pattern™ and Cambridge holds a patent on the concept: "Architectural Mesh Sunscreen with Varying Shading Characteristic" (US 8,006,739 B2).
Compton says there are numerous Build-A-Pattern™ choices using Cambridge patterns. Two options that mix multiple patterns are:
Stripe – Predominantly made from Cambridge's Mid-Balance mesh pattern, Stripe includes periodic spirals of the more open Scale weave
Windsor – Features four rows of Mid-Balance spirals between each Windsor band
Recent projects that include a mix of Cambridge Architectural patterns include:

Dallas Area Rapid Transit, Market Center Station Pedestrian Bridge: Chosen for aesthetics, safety and fall protection on the open-air bridge, it combines two Cambridge mesh patterns: Pellican, a larger weave that covers the upper sections of the bridge, and Scale, a smaller weave that covers the lower sections.
West Career & Technical Academy, Las Vegas: A mix of Cambridge's Scale and Mid-Balance mesh patterns in a "patchwork quilt" configuration on side-by-side façade panels that provides solar shading and daylighting benefits to the facility.
About Cambridge Architectural
Cambridge Architectural, a division of Cambridge International, is the most experienced full-service provider of sustainable architectural mesh systems for both interior and exterior building applications. As the world leader in tensioned mesh systems, Cambridge Architectural metal fabric solutions lend unique aesthetic appeal, functionality, affordability and sustainable benefits to a variety of structures interior and exterior. Cambridge Architectural offers full system design, engineering and collaboration from concept through installation – in the most challenging building environments and under the strictest budgets. Cambridge Architectural metal fabric systems are categorized by the primary applications they serve, including parking structures, exterior shades, facades, canopies, curtains and others. As a member of the United States Green Building Council, Cambridge Architectural is committed to promoting methods, technology and products resulting in environmentally responsible and healthy buildings. The Cambridge Architectural team develops systems that meet or exceed LEED requirements and provides consultation and direction on a project-by-project basis. Visit http://www.CambridgeArchitectural.com for more information.