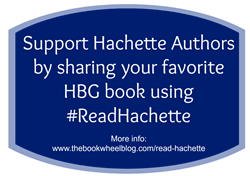 (PRWEB) July 07, 2014
An independent effort to promote authors impacted by the Amazon-Hachette fight has taken on new meaning as more than 300 authors have signed a petition urging Jeff Bezos to resolve the dispute. Originally started in May by the independent review website, The Book Wheel, #ReadHachette takes no sides in the fight and encourages readers to share their favorite Hachette Book Group titles on Facebook, Twitter, and Instagram. Since its inception, the campaign has been consistently active and has caught the attention of authors and publishers alike, several of whom have tweeted their support for the campaign.
As the fight heats up, it is likely that #ReadHachette will become even more relevant as a means to support authors without picking sides.
ABOUT THE BOOK WHEEL:
The Book Wheel is an award-winning, independent book review website that has been featured in advertisements in Goodreads and The New York Times Book Review. Winner of Story Cartel's Top 10 Blogs for Book Lovers (2013) and BookVibe's 10 Favorite Book Blogs Discovered at BEA 2014.