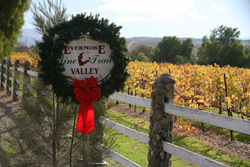 Chris Chandler, Livermore Valley Winegrowers Association, suggests the best way to enjoy the Valley's wonderful Sauvignon Blanc is to 'bring a picnic lunch and enjoy it with a Livermore Valley crafted Sauvignon Blanc.'
Livermore, California (PRWEB) July 08, 2014
The winemakers and growers of the historic Livermore Valley grape growing region have kicked off Sauvignon Blanc Month and it looks to be another exceptional opportunity to get summertime into your glass. Various wineries are offering discounts, free bocce and other enticements to celebrate this quintessential Livermore heritage grape, Sauvignon Blanc.
One of California's oldest wine regions, the Livermore Valley has played a pivotal role in shaping California's wine industry since the Spanish missionaries planted their first wine grapes there in the 1760s. Robert Livermore, the valley's namesake, is credited with planting the first commercial vineyards in 1840. Over the succeeding decades, Livermore was followed by icons Charles Wetmore, President of the California Viticultural Commission and Carl H. Wente, who founded one of the first wineries in Livermore in 1883.
Unbeknownst to many, the first international, (read French) Gold Medals (read Grand Prix) awarded to a California wine were from the Livermore Valley. The event was the 1889 International Paris Exposition (about 113 years before the well known judgment at Paris) when Cresta Blanca Winery, owned by Wetmore, submitted a 'dry white wine' for the competition. The wine was composed of Sauvignon Blanc, grown on cuttings, that, ironically, originated at Château d'Yquem in southern Bordeaux. Cresta Blanca Winery was designated a California historical landmark in 1957 and is owned by the Wente family.
It shouldn't surprise anyone that Livermore Valley excels at producing world class Sauvignon Blanc. UC Davis has been telling growers since the 1950's that Livermore Valley was the place to grow Bordeaux varietals, especially Sauvignon Blanc, because of the terroir.
Karl Wente, fifth generation Winegrower and Winemaker for Wente Family Estates, has the DNA of the valley under his fingernails. He says, "Wente's Louis Mel Estate Sauvignon Blanc, like Cresta Blanca, is the descendant of the famed Château d'Yquem Sauvignon Blanc. This Sauvignon Blanc has a beautiful straw color and aromas of guava, melon, gooseberry, citrus and lime. The minerality and refreshing crispness with flavors of honeydew melon and pineapple make this Sauvignon Blanc very special."
Prior to moving from the Los Altos Hills to the Livermore Valley in 2004, Page Mill Winery sourced grapes from all over the North and Central Coast regions. Since moving to Livermore, Dane Stark, Page Mill owner and winemaker, has sourced more and more of his grapes from Livermore Valley. His Sauv Blanc is now about 90% Livermore sourced. Stark says that, "Livermore Valley grapes offer great quality at an affordable price." Page Mill produced nearly 600 cases of Sauv Blanc in 2013.
One of the reasons for the current renaissance in the Valley is the winemakers who are exploiting the wonderful fruit produced there. Mark Clarin, winemaker at McGrail Vineyard & Winery, earned his chops with Wente as well as Santa Cruz Mountains icon Randall Graham of Bonny Doon Vineyards. Mark says, "Livermore Valley Sauvignon Blanc varies from grassy herbaceous to tropical fruit depending on how it is grown and the style the winemaker wants to produce." McGrail uses Clone 376 which they believe "offers a bit more Melon and honeysuckle character."
Most winemakers in the valley bottle 100% Sauv Blanc. One exception is Steven Kent Winery, owned by Steven Mirassou, 6th generation grower and winemaker, whose family began growing grapes and producing wine in San Jose in 1854. Steven's Lola Blend is typically 35% Semillón and 65% Sauv Blanc because "the Semillón adds viscosity without using oak." He does admit to using very 'experienced' oak barrels and a small percentage of acacia barrels to add a floral component (flavor not aroma). Interestingly, the 2013 (current) release is 100% Sauv Blanc (about 400 cases produced).
So what should consumers do? Larry Dino, owner and winemaker at Cuda Ridge Winery, suggests that consumers "experiment with several different Livermore Valley Sauvignon Blanc producers. Find a few that fit your palate preference, whether that be citrus and grapefruit or apples and pears or the herbaceous New Zealand style." Whatever your preference Livermore Valley offers world class wines with great value pricing. Larry produces a boutique quantity, 150 cases, of Sauv Blanc but he remains excited about the evolving consumer interest in Livermore Valley wines.
"The Livermore Valley is one of those gems of a wine region that you may not know. Its long history of winemaking and its deep connection to Sauvignon Blanc are well worth exploring through the great wines they make today." Bryan Dias, Executive Director, Summertime in a Glass.
The Director of the Livermore Valley Winegrowers Association, Chris Chandler, suggests the best way to enjoy the Valley's wonderful Sauvignon Blanc is to "bring a picnic lunch and enjoy it with a Livermore Valley crafted Sauvignon Blanc." Visitors can find the perfect picnic location and Sauvignon Blanc producers at: http://www.lvwine.org/wineries.php.
Livermore Valley Winegrowers Association also hosts a 'Taste our Terroir' event 24-27 July. Another great opportunity to get summertime into you glass.
The Livermore Valley AVA (American Viticultural Area) is located just 30 miles east of San Francisco and is included in the greater Central Coast AVA (Napa and Sonoma for comparison are in the North Coast AVA).