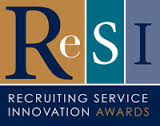 With this award, we have an exciting glimpse at the enormity of the opportunity ahead of us in the US market.
Silicon Singapore (PRWEB) July 07, 2014
HRBoss, a leading provider of data-driven Cloud solutions with clients including government organisations, MNCs, SMEs and start-ups across Asia and the world, has been honoured with Silver at the 1st Annual Recruiting Service Innovation Awards (ReSis). The award was presented at a gala reception held at the conclusion of the Society for Human Resource Management (SHRM) Annual Convention & Expo, the world's largest HR forum, in Orlando, Florida.
Established by the International Association of Employment Web Sites (IAEWS), the ReSIs are the first accolade to recognize ground-breaking recruiting products and services that empower employers to optimize their recruiters' experience. The IAEWS is the US-based trade organization for the global online employment services industry and has been at the forefront of product and service innovations for recruiting with members powering or operating over 60,000 employment sites that serve employers, recruiters and job seekers globally.
A truly international competition, Recruiting tech companies from Canada, India, the Netherlands, Singapore, the United Kingdom and the United States submitted nominations for this year's competition. After a series of evaluations by the blue ribbon Selection Committee comprising of senior executives from Hewlett Packard, Hyatt and Meritage Talent Solutions, HRBoss was selected as a semi-finalist earlier in May for HiringBoss, their flagship software application. Subsequently, after a survey of actual product users, IAEWS awarded HRBoss Silver for its candidate management and selection tool.
Bernie Schiemer, HRBoss's CEO and founder, commented "This award means a great deal to everyone at HRBoss because it comes down to the real life success stories from the customers who depend on HRBoss solutions to amplify their recruiting and HR strategies every day. This incredible customer feedback about how HRBoss is changing the way businesses manage their talent acquisition is what matters most to us. The fact that this award is organized by the global trade association, IAEWS, adds another layer of prestige to this award, especially ahead of our official launch in to the US market. To be recognized by recruiting leaders and affirmed by product users as an innovator proves that our vision to disrupt the recruiting industry is becoming a reality. With this award, we have an exciting glimpse at the enormity of the opportunity ahead of us in the US market. "
Launched in 2011 and delivered as a turn-key subscription solution, HiringBoss is the 1st dedicated recruiting solution engineered to meet the demands of the Asian end-user. Unlike other recruiting systems, HiringBoss focuses on user adoption levels – a recruiting platform that works across Asian legal jurisdictions and meet local regulatory demands.
HRBoss has recently secured a series B $3.6 Million USD funding led by JAFCO, Asia's leading private equity firm. This pushes the software provider's total funding to $12,000,000 US Dollars to date. Notably, this award precedes HRBoss's entry into the US and Europe market in the next quarter.
To view the full list of award winners, click here.