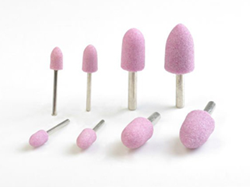 Zhengzhou, China (PRWEB) July 07, 2014
Recently iAbrasive issued an article which gives some guidance on how to choose polishing material that is most appropriate for stone polishing. (See the original article at: http://www.iabrasive.com/articles/polishing-materials-applied-in-stone-field)
Stone polishing is a special field that deserves careful choice and proper application. The principle of stone polishing can be summarized as follows: with the effect of machinery, grinding disc made of special polishing materials will be applied in stone finishing process, during which grinding disc and stone rubs with each other to gradually achieve the purpose of stone surface polishing.
There are various types of stone, whose physical properties, chemical properties as well as crystal structures, vary. If some harder stone is to be polished, one is supposed to choose abrasive tools that contain polishing materials with great hardness. Besides, difference in stone crystal structure may also influence polishing effect. For larger stones, uneven polishing appears more obvious than that of small ones. As a result, small stones are easier to be polished.
In technical level, polishing mounted points feed rate has a great influence on stone polishing effect. On one hand, increased feed rate in mounted points may reduce polishing material friction, while stone surface will receive poor polishing effect; on the other hand, if feed rate lowers down, mounted point materials rub faster and it is difficult to reach the expected polishing effect.
About iAbrasive
As a professional online foreign trade platform specializes in abrasives industry, iAbrasive will always provide trade channels for abrasives buyers and sellers to do business more convenient and simple. For more information about latest abrasives news, please visit: http://www.iabrasive.com/articles.