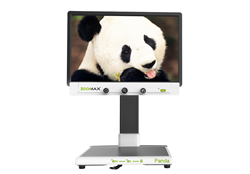 I like this desktop magnifier! It's simple and easy to use. Also it's perfect for my house. -- From Panda's user, John Stark
San Francisco, CA (PRWEB) July 11, 2014
Zoomax, a world-leading manufacturer of magnifying solutions for the visually impaired, today announced the launch of a competitive 19-inch desktop electronic magnifier called "Panda". The electronic magnifier is easy to operate, affordable, and the perfect size for parents, children, or students who need magnification for everyday tasks such as reading or writing.
True Plug & Play
Unlike other electronic desktop magnifiers, Panda achieves true plug-and-play functionality, without the need to memorize complex functions. Three large, intuitive buttons control brightness, color modes, and zoom level, the three, meaning that even new users can master the magnifier in a matter of seconds. The process is as simple as plugging the device in and turning it on.
Sized for Apartments and Offices
"I'd prefer to read books on a big screen because of my eyesight. I could have gotten a 24-inch desktop magnifier, but nowhere in my apartment to keep it," said Amy Brown, a Zoomax customer with low vision. Once installed, the XY table for Panda measures 19.5 inches, and the screen measures 19 inches, meaning that Panda occupies less space in a small apartment or office. The Panda is perfectly suited for reading newspapers or documents, creating a large, clear image on-screen from any height or angle.
Affordability
According to an October 2013 fact sheet from the WHO, 285 million people worldwide are estimated to be visually impaired. By introducing this truly affordable desktop electronic magnifier, Zoomax aims to allow more people to easily read the newspaper, do housework, deal with documents, view pictures and do what people like to do: live.
Panda Specs and Features:

Auto focus camera
Continuous magnification of about 2X to 70X
19'' LCD screen can be twirled left and right, moved up and down
17 high contrast color mode options
Brightness adjustment
25cm working height under the camera
XY table dimension: 36.8cm X 36.6cm X 4.6cm
Net weight: 14kg
About Zoomax
Zoomax Technology Inc., a global low vision equipment supplier, designs, manufactures, and sells the highest quality and most cost-effective video magnifiers. The low vision products range covers handheld, portable, and desktop video magnifiers. Today, Zoomax's products, such as Snow and Snow 7 HD are well known worldwide, with distributors in more than 40 countries. The Panda is now available through authorized Zoomax global dealers. For more information about Zoomax's products, availability, and for other information, please visit the Zoomax website at http://www.zoomax.co.
Contact information:
Tel: +86-571 87006308
Email: zoomax.marketing(at)zoomax(dot)co
Facebook: Facebook.com/pages/Zoomax-Technology-Inc/296358023779839
Twitter: @ZoomaxMarketing
Google+1: plus.google.com/103200077460188065275/posts
Linkedin: linkedin.com/company/3543104