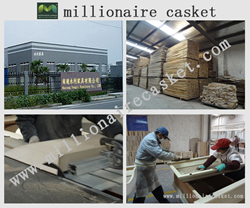 (PRWEB) July 08, 2014
The great poplar caskets from MillionaireCasket.com are popular among worldwide distributors. They are famous for natural materials, exquisite craftsmanship and competitive prices. Recently, the company has announced great discounts for its brand new poplar caskets.
MillionaireCasket.com hopes that the special offer can save money for clients from all over the world. Its experienced specialists are striving to make more high quality wood caskets for its loyal customers. To meet the specific needs of different clients, its items are provided in many different specifications. The company's excellent poplar caskets have greatly stimulated its business growth in the past few years.
Now, all its poplar caskets are cheap; the current discount is up to 29% off. MillionaireCasket.com's products are carefully designed by professional workers. They hope to help worldwide clients to get quality caskets at an affordable rate. This is why the company decided to launch the current special offer.
"We are excited to announce our poplar casket promotion. As is known to most people, our poplar caskets sell well in the current market. A lot of them have been well appreciated by the purchasers. Thus, we decided to make the new range and launch the special offer. All people can enjoy the big savings before July 25," the company's sales manager says.
About MillionaireCasket.com
MillionaireCasket.com is a leading casket company that focuses on the business of casket wholesale. This company offers an exquisitely crafted line of all kinds of metal caskets, solid wood caskets, veneer caskets, cremation caskets, rental caskets, orthodox caskets, infant or over-sized caskets and European style coffins. The standard quality control policy is strictly applied here, and a third poplar caskets quality assurance is also available.
More information can be found at http://www.millionairecasket.com/67-poplar-caskets.