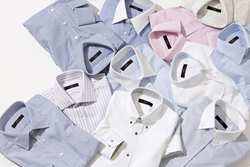 San Francisco, CA (PRWEB) July 08, 2014
Pairing fashion with cutting-edge technology, custom shirt design and e-commerce website Original Stitch is San Francisco-based company BleuFlamme's newest and biggest offering to date.
The brand's philosophy is to provide its users with exceptional shirts that fit perfectly and effortlessly integrate into cosmopolitan wardrobes and lifestyles. Finding the ideal shirt is a sartorial search that takes significant time and effort; but with Original Stitch, users can save themselves countless hours searching for a piece that both fits flawlessly and expresses their personalities and preferences.
Over one billion unique designs and combinations are made possible through an innovative 3D platform called the Shirt Studio, which allows Original Stitch users to design perfectly-fitted, made-to-measure shirts in minutes, and lets clients view their designs from multiple angles in its real time simulator. Clients can choose from hundreds of luxurious fabrics and materials, select their preferred cuts and styles, and even embellish their designs with a variety of button and monogram options.
Crafted with an eye for detail in Japan, each shirt pattern is cut to precision before being hand stitched, pressed, and beautifully packaged by a team of skilled tailors and craftsmen. Original Stitch also guarantees worldwide delivery within two weeks of placing an order.
Additional features and offerings include:

An online community for sharing design ideas and inspiration
Personal stylists to help clients get the most accurate measurements
A personal archive that keeps track of a user's measurements and previous designs
Remakes and exchanges free of charge within 30 days of delivery
With thousands of shirts sold to date, and a number of the tech and design world's most influential names added to its roster of clients, Original Stitch guarantees customer satisfaction at every stage, from design to delivery.
To learn more about Original Stitch, visit their website at http://originalstitch.com.