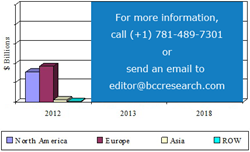 Global Market for Organic Foods and Beverages to Reach Nearly $161.5 Billion by 2018; Asian Countries Moving at 22.9% CAGR
Wellesley, Mass., (PRWEB) July 07, 2014
BCC Research (http://www.bccresearch.com) reveals in its new report, ORGANIC FOODS AND BEVERAGES: GLOBAL MARKETS, the global organic food and beverage market was worth nearly $71.2 billion in 2012 and is expected to reach $161.5 billion by 2018, with a five-year compound annual growth rate (CAGR) of 15%. Asia, Latin America and South Africa are expected to have increasing demand for organic foods and beverages due to expanding domestic organic production, growing government support for organic agriculture and initiatives for the development of organic standards and regulations.
Increasing consumer demand for organic food and beverage products, on the other hand, is helping market players to position themselves in the global market by launching a variety of new and innovative products. Regulatory authorities in different countries are taking initiatives towards setting standards and regulations for the promotion of safe and healthy organic foods and beverages.
"The global organic food and beverage market has grown exponentially in the last few years and growth is expected to continue. It is being driven by increasing consumer awareness, growing amounts of organic farmland, the accessibility of organic products, acceptance of new organic standards, and rising per capita income in developing countries such as China, India and Brazil," says BCC Research analyst, Natraj Pandal. "There are potential opportunities in the global food and beverage market stemming from the huge export potential in emerging countries and prospect for enterprise development."
ORGANIC FOODS AND BEVERAGES: GLOBAL MARKETS provides a top-down approach to estimate the market sizes of global organic foods and beverages. Key categories and regions are analyzed to determine present and future organic food and beverage market status and forecasted five-year compound annual growth rate (CAGR) from 2013 to 2018. It also discusses market strategies, patent evaluation, and market driving forces. Aspects of organic food and beverage types, demand trends, opportunities, production, consumption levels, and market penetration in different regions are also examined in this report.
Editors and reporters who wish to speak with the analyst should contact Steven Cumming at steven.cumming(at)bccresearch(dot)com.
About BCC Research
BCC Research publishes market research reports that make organizations worldwide more profitable with intelligence that drives smart business decisions. These reports cover today's major industrial and technology sectors, including emerging markets. For more than 40 years, we have helped customers identify new market opportunities with accurate and reliable data and insight, including market sizing, forecasting, industry overviews, and identification of significant trends and key competitors. We partner with analysts who are experts in specific areas of industry and technology, providing unbiased measurements and assessments of global markets. Our clients include the top companies in industries around the world as well as universities, business schools, start-ups, consulting firms and investment companies. BCC Research is a unit of Eli Research LLC. Visit our website at http://www.bccresearch.com. Contact us: (+1) 781-489-7301 (U.S. Eastern time), or email information(at)bccresearch(dot)com.
Data and analysis extracted from this press release must be accompanied by a statement identifying BCC Research LLC, 49-2 Walnut Park, Wellesley, MA 02481, Telephone: (+1) 781-489-7301; Email: editor(at)bccresearch(dot)com as the source and publisher. Thank you.