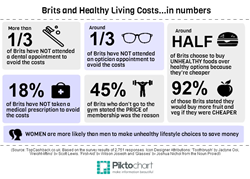 London, UK (PRWEB UK) 8 July 2014
'Hitting the gym' and 'eating healthier' are on most Brits' to-do lists, as part of the eternal quest to become healthier. However, those still sitting at home on the couch, eating 'TV dinners' may not be there merely for lack of will power or drive. Research published today by TopCashback.co.uk reveals that a concerning number of Brits are making unhealthy lifestyle choices to save money. Around half of Brits choose to buy unhealthy foods over healthy options because they're cheaper, around a third have avoided attending eye appointments to save money and 45 per cent don't go to the gym due to the price of memberships. Other key findings revealed that:

More than a third of Brits have not attended a dental appointment to avoid the cost
18 per cent have not taken a medical prescription to avoid the costs
92 per cent of Brits who chose to buy unhealthy foods to save money stated they would buy more fruit and vegetables if they were cheaper
Women are more likely than men to make unhealthy lifestyle choices to save money
The full set of statistics is displayed in the Brits and Healthy Living Costs…in numbers infographic below:

Notes to Editors
Results based on a survey of 2,751 respondents
Case studies are available upon request
Media contact
For information about TopCashback.co.uk, consumer-spending insight and access to hundreds of consumer case studies, please contact press(at)topcashback(dot)co.uk or call Lindsey Casey or Francesca Williamson on 020 3489 6464.
About TopCashback (http://www.topcashback.co.uk)
TopCashback.co.uk, the UK's most generous cashback site, passes up to 105% of the commission rate that retailers pay it - to advertise their products and services – back to its members. The site has more than 3.6 million members, which is more than double the amount of members in the last two years alone.
TopCashback includes more than 4,100 merchants, from high street big names to smaller, niche online sellers. £3.2 million cashback is earned by TopCashback's members each month, with £600 million worth of transactions passing through it each year. Consumers effectively get, on average, a 7% discount on each transaction they make simply by clicking through to their chosen retailer via TopCashback.co.uk, instead of going to the retailer's website directly.
TopCashback also provides consumers with discount codes and vouchers, which can be used in conjunction with earning cashback. In 2012 it launched seven product-comparison tools, covering credit cards and insurance policies, which uniquely find the cheapest, and most appropriate, products for consumers' needs while paying the commission rate to the individual as a cashback rebate on top.
In January 2013 TopCashback was the first cashback site to provide consumers with access to money-saving services through mobile phone camera technology with its 'Snap & Save' service, which gives shoppers cashback on in-store purchases.
In June 2013 TopCashback launched 'TopCashback Plus', which enables members to get the very best, unrivalled rewards from their shopping. Plus members receive 105% cashback on all purchases and fast-track customer service in addition to a host of other features. The 'TopCashback Classic' free service is still available to members inclusive of all its original benefits.
TopCashback.co.uk was named Britain's 98th fastest growing private company in The Sunday Times Virgin Fast Track 100, in December 2013. In 2012 it ranked 35th in the league and in 2011 it ranked 5th.