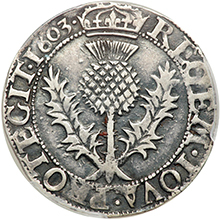 We are already gearing ourselves up for the potential rush to secure the first new and independent Scottish coins minted. As collector's pieces, we'd be foolhardy to miss out on the opportunity to assist numismatists in securing theirs.
London, UK (PRWEB UK) 8 July 2014
On 18 September 2014, Scotland will go to the polls to vote as to whether they want to remain part of the UK, or gain independence. Other than other logistics that are part and parcel of the independence process, currency will be top of the agenda. Regardless of whether the Scottish pound is pegged to the British pound, the design of the coins and notes are noted to be unique.
According to a news report published by Token Publishing on 22 May 2014 by Alyson Thomas, popular opinion has it that a derivative of the pound will be adopted in Scotland if the referendum is in the affirmative. Should that be the case it is widely believed in numismatic circles that there will be a new coin minted.
In that news reported it was further stated that a further report submitted to the Scottish Parliament by economist Professor Gavin McCrone, suggested that it is perfectly possible for the Scots to follow the Irish example and implement a pegged Scottish pound, which he suggests might be called the Merk after a coin minted in Scotland in the 1500s.
In a further news report published by The Telegraph on 04 June 2014 by Scottish Political Editor, Simon Johnson, it was stated that an independent Scotland would be twice as likely to adopt its own currency as continue using the pound. That was according to an analysis released on 03 June 2014 by Barclays for its investors.
The banking giant estimated there was a 60 per cent chance of Scotland being forced to start its own currency despite First Minister of Scotland, Alex Salmond's insistence that the remainder of the UK would drop its opposition to sharing the pound after a 'Yes' vote in the referendum.
Elliot Basker, Online Business Manager, Hallmark Coins, says, "Throughout the history of British coins, we at Hallmark Coins have always seen a fairly strong Scottish influence shining through, an example being the George VI shilling. Should there be a positive referendum in Scotland, we and other numismatists worldwide wait in anticipation to see what the new coin designs will be."
A second analysis by Deutsche Bank, Europe's largest investment bank, warned that the creation of a new currency could trigger a bank run as Scots withdraw their savings over fears it would be worth less than the pound.
Alistair Carmichael, the Scottish Secretary, said: "Once again, neutral experts have highlighted the difficulties that independence would bring for Scotland and the UK. "With nearly 100 days to go until the referendum we are still in the ridiculous position of having to speculate as to what currency an independent Scotland would have."