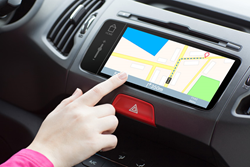 For all the positive things I've heard about this brand throughout the years, that system alone will prevent me from ever buying one of their cars.
Milton Keynes (PRWEB UK) 8 July 2014
Virtually every automaker now offers connected infotainment systems in the USA, and in 2014 these connected headunits are expected to be fitted onto almost 40% of all new cars sold. But is the growing functionality of these systems helping automakers sell more cars and increase customer loyalty?
SBD, a leading automotive market research and consultancy firm, today released the results of its groundbreaking Connected Car Usability Benchmarking USA study that challenges industry preconceptions of what drivers need and how the connected car experience should be enabled. The study was conducted in partnership with Morpace, a leading specialist in consumer research, and included expert and consumer testing of systems offered by Chrysler, Honda, Nissan, Mercedes-Benz, Porsche and Tesla.
Over 60% of consumers who participated claimed that they were less likely to buy a car from certain well-known car brands after having tested their infotainment systems. The main reason given was difficulty in completing basic tasks such as finding radio stations, setting destinations or making hands-free phone calls. One consumer even commented afterwards: "For all the positive things I've heard about this brand throughout the years, that system alone will prevent me from ever buying one of their cars."
In contrast, systems offered on the Tesla Model-S and the Nissan Altima received positive ratings from consumers and SBD's expert testers. Both systems offer intuitive menu structures and a more seamless integration of connected services. As an example of how this can impact the user experience, it takes users only 9 seconds to set a destination on the Tesla navigation system, compared with over 30 seconds on some of the other systems included within the study.
"Success within the automotive industry is often mistakenly defined as being first-to-market with new features and services," said David McClure, Director at SBD. "Our study demonstrates that unless this rush towards greater functionality is carefully managed, the resulting increase in complexity can actually have a counterproductive impact on customer loyalty. And the size of this impact is growing rapidly, as shown by the strong negative reaction displayed by consumers towards some of the infotainment systems they tested."
"Automakers need to carefully choose the right technologies and partners that help minimise the complexity of their systems. But success also relies on having a single team responsible for the overall ownership experience of a car. SBD continues to help its clients in choosing the right technologies, finding the best partners and structuring themselves in the most effective way to innovate. Our latest Connected Car Benchmarking study is an indispensable tool to help automakers and suppliers understand what it takes to develop a market-leading infotainment system that balances both functionality and usability."
Click here to read more interesting insights from the study, or contact us to receive a sample.
ABOUT SBD
SBD is an independent, technical and market research consultancy specialising in automotive security, connected car telematics and driver assistance systems. From tracking industry trends through to strategic support for product development, SBD has over 18 years of experience working with world-class companies in the automotive and associated industries.
At SBD, we strive to inspire automotive innovation by bridging the gap between technical design and actual customer & legislative needs of different markets. Our diverse team of experts understand global market requirements and work alongside our clients to plan cost-effective, class leading products that their customers value.
Contact:
Emma Coxhill
Client Relations Coordinator – SBD
Davy Avenue, Knowlhill, Milton Keynes, NN4 8PH
United Kingdom
+44 (0)1908 305 101
info(at)sbd(dot)co.uk
http://www.sbd.co.uk
ABOUT MORPACE
Morpace Inc. is a full-service market research and consulting organization specializing in qualitative and quantitative research across many industries. Automotive is at the core of Morpace's DNA, and within this practice, Morpace has established itself as a leader in vehicle connectivity research and analysis. Working across the globe with automotive manufacturers and technology companies, Morpace provides clients with information on features most desired by consumers, preferred pricing and packaging options, and how the consumer prefers to interact with connectivity features throughout the driving experience. In 2012, the company published its Connected Car B-LinkTM syndicated study in the US and China.
Established in 1941, Morpace is part of the Honomichl Top 50 list of largest U.S.-based market research firms as developed by Marketing News magazine. It is headquartered in Detroit with offices in Los Angeles, London, and Shanghai. Visit http://www.morpace.com for more information.