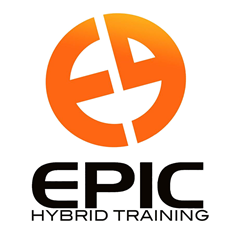 Live EPIC. Be EPIC. - Alexander Nicholas
New York, NY (PRWEB) July 08, 2014
Just in time to kick the fitness arsenal into full gear, EPIC Hybrid Training is opening its second location just blocks away from Bryant Park (38 West 38th street). This location is a workout wonderland for fitness enthusiasts looking to maximize their "fun-factor" while getting in fantastic shape. The EPIC facility is where Spartan Race meets American Ninja Warrior meets High Intensity Interval Training (HIIT). Ever want to practice your spear throw or prepare for your next Spartan Race? EPIC has a 2,000 square foot rooftop equipped with spear throw, climbing ropes, and traverse wall. Think you complete the types of challenges seen on American Ninja Warrior? EPIC has the only salmon ladder in New York City, along with a lateral peg wall and much more. The EPIC Hybrid Training program is tailored for all levels of fitness from beginners who have never worked out to the high-level athlete who is training for their next competition.
Alexander Nicholas, owner and founder of EPIC Hybrid Training, is a sponsored Spartan Race athlete who has been an American Ninja Warrior competitor for two straight years. He will also be featured in Steve Austin's new competition show, Broken Skull Challenge, which airs Sunday nights on CMT this summer.  
Alex has surrounded himself with a wide variety of coaches (everything from UFC fighters to Yoga masters) to help fulfill all of your fitness needs.   
 
The grand opening party will be Friday and Saturday, August 1st-2nd, which will feature the first Verified Bad Ass Challenge (#verifiedbadasschallenge) starting at 9 p.m. Coaches and chosen participants will participate in a 24-hour workout consisting of 6 traditional Spartan obstacles. The competitor who completes the most obstacles in the 24-hour time span will be crowned the EPIC Badass. 
Over $5,000 in cash and prizes will be awarded to all who participate. The public is invited to watch, try out obstacles, and learn more about EPIC. Please stop by for a visit and enjoy the festivities!
 
For more information on EPIC Hybrid Training, visit http://epichybridtraininig.com or Like us on Facebook at http://www.facebook.com/EpicHybridTraining. You can also tweet us @epichybridtrain and be sure to look out for our #liveepicbeepic hashtag throughout social channels. 
"Live Epic. Be Epic." – Alexander Nicholas