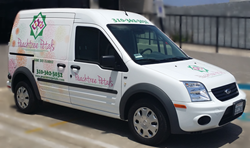 Santa Monica, CA (PRWEB) July 08, 2014
Peachtree Petals, a recognized leading Atlanta florist specializing in premium floral arrangements and wedding floral services, announces opening of new Santa Monica floral and gift shop location. The Santa Monica florist make the announcement to inform its clients of its new location, expand its current client base, increase gift shop visits, and sales growth. Peachtree Petals strives to be the superior choice in high-quality and custom-designed floral arrangements in Santa Monica and Atlanta areas.
With a strategic location within Santa Monica, Peachtree Petals is able to meet its floral demand in Los Angeles and other surrounding metro cities. The wonderful floral and gift shop includes floral arrangements, gift baskets, chocolates, candles, plush toys, balloons, and much more. The operating hours of the Santa Monica gift shop is Monday through Friday from 8:00am to 5:00pm and Saturdays from 8:00am to 1:00pm.
Peachtree Petals is highly known for its ability to offer same-day delivery of its beautiful floral arrangements. Some of the cities the Santa Monica florist will be servicing includes Los Angeles, Long Beach, Inglewood, West Los Angeles, Westwood, Encino, Hollywood, Pacific Palisades, Torrance, Culver City, and Bel-Air.
With the new Peachtree Petals Floral and Gift Shop location, the florist will accommodate pick up orders, walk-in order requests and assorted gift shopping. Customers can also set appointments to meet with a floral designer for any custom-designed floral needs. For any questions regarding directions to the new location or any specific floral design needs, customers can call 310-362-3032 or visit the Santa Monica location website via http://www.peachtreepetals.com.
Peachtree Petals is a well-known leading Atlanta florist and recognized Master Florist nationwide. For the best Santa Monica flowers, Peachtree Petals is able to meet all of your floral needs. Their floral designers have over 25 years of experience and enjoy their craft. Based in Atlanta, Georgia, Peachtree Petals services a growing list of clients, including company floral subscriptions and weekly floral services. The company offers a simple approach to the floral industry, most notably, same-day delivery of all their floral arrangements in the Atlanta and Santa Monica areas.