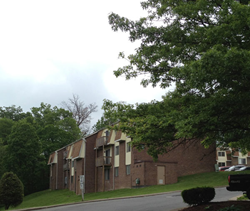 RED's obvious expertise in the financial arena was demonstrated as they helped guide the various participants through this complex transaction.
Dallas, TX (PRWEB) July 08, 2014
RED Capital Markets, LLC (MEMBER FINRA/SIPC) and RED Mortgage Capital, LLC, respectively, the investment banking and mortgage lending entities of comprehensive capital provider RED CAPITAL GROUP, LLC, recently worked with Millennia Housing Development, Ltd., the developer and managing general partner, to structure a number of financing sources to fund the acquisition and rehabilitation of Greenbrier Estates, an affordable housing apartment complex located in Beckley, West Virginia.
To meet the financing requirements for Greenbrier Estates, various sources were combined. The first part of this transaction utilized a $4,813,000 FHA 221(d)(4) loan funded by RED Mortgage Capital, LLC. The second piece was a $4.8 million bond issued through the City of Beckley and underwritten by RED Capital Markets, which allowed the sponsor to receive 4% tax credits. The third component of this transaction included $1.8 million in low income housing tax credit ("LIHTC") equity, which will be available for the property through the syndication by Community Affordable Housing Equity Corporation ("CAHEC"). A fourth piece of the package was a $1.6 million loan from the West Virginia Housing Development Fund ("WVHDF") sourced from HOME funds.
Greenbrier Estates was an existing HUD Section 236 and Section 8 apartment community serving low and very low income families. The property contains 150 units of which, 125 units will be subject to LIHTC (60% AMI) restrictions. The rehabilitation work will help ensure the long-term economic viability of the property, thereby preserving much needed affordable housing for families in the area.
Millennia Development, Ltd. serves as the Developer, and Millennia Housing Management is the Management Company overseeing this rehabilitation project. Established in 1995, Millennia specializes in developing, owning, and operating HUD subsidized and Low Income Tax Credit Housing properties. The firm currently operates more than 10,000 apartment units in Ohio, Michigan, Indiana, Missouri, Iowa, Kentucky, West Virginia, and New York. The general contractor is American Preservation Builders, LLC ("APB"), an affiliate of Millennia Housing Development and Millennia Housing Management.
Frank Sinito, President of Millennia Development, Ltd. said, "RED's obvious expertise in the financial arena was demonstrated as they helped guide the various participants through this complex transaction." Sinito went on to say, "The financing team worked well together meeting the closing deadline and taking advantage of the FHA insured loan program and the LIHTC program, as well as other financing options."
Tracy W. Peters, Senior Managing Director of RED Capital Markets said, "Millennia's team has a proven track record working with officials in the state of West Virginia to provide much needed housing for low income earners. This project will benefit the Beckley community for many years to come, and RED is proud to be a part of something that so positively impacts people's lives."
About RED CAPITAL GROUP, LLC:
Recognized for its industry expertise, innovative and comprehensive structures, and consistently high rankings, RED CAPITAL GROUP, LLC has provided over $55 billion of integrated debt and equity capital since 1990 to the seniors housing and health care, multifamily, affordable, and student housing industries through three operating companies. RED Mortgage Capital, LLC is a leading Fannie Mae DUS® and MAP- and Lean-approved FHA lender, with a mortgage servicing portfolio of more than $17.8 billion. RED Capital Markets, LLC (MEMBER FINRA/SIPC) is a leader in the distribution of Fannie Mae and Ginnie Mae Project MBS, and provides structuring, underwriting, placement, and advisory services for tax-exempt and taxable housing and health care bonds. RED Capital Partners, LLC provides proprietary debt and equity solutions and asset management in a range of forms, including subordinated gap and bridge loans. RED CAPITAL GROUP, LLC is a subsidiary of ORIX USA Corporation.
About ORIX USA Corporation:
ORIX USA Corporation is a diversified financial company with approximately $6 billion of assets in sectors spanning commercial finance, venture finance, commercial real estate, and public finance, as well as $25 billion of assets managed for others. Operating subsidiaries include Houlihan Lokey, RED CAPITAL GROUP, and Mariner Investment Group. Headquartered in Dallas, Texas, ORIX USA and its subsidiaries have more than 1,400 employees and offices in major cities including New York, Los Angeles, London, and Tokyo.
ORIX USA is a wholly owned subsidiary of ORIX Corporation, a Tokyo-based, publicly owned international financial services company with operations in 35 countries worldwide. ORIX Corporation is listed on the Tokyo (8591) and New York Stock Exchanges (IX). For more information on ORIX USA, visit http://www.orix.com.
DUS® is a registered trademark of Fannie Mae.