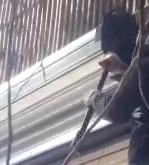 Rolling Gates NYC Helps Businesses - Rolling gates can prevent break-ins!
New York, NY (PRWEB) July 23, 2014
Whether it's due to heat-related frustration or the fact that more people are out during the season's longer days, crime tends to rise during the summer. According to FBI data, crime increases about 10 percent during the summer months. To help prevent both business and residential crime, Rolling Gates NYC offers safe, secure rolling gates and grilles, providing installation as well as repair and maintenance.
A licensed and insured business with offices in both Manhattan and Long Island, Rolling Gates NYC offers 24-hour repair services in addition to decades of experience in installing and fixing doors and gates.
"While summer offers more sunshine, family vacations and a lot of fun, it is also the busiest time of year for criminals, which makes a secure rolling gate a great idea," said by the owner of Rolling Gates NYC. "Month after month and season after season, Rolling Gates NYC offers affordable solutions for individuals and businesses that want to feel a little more secure."
Rolling Gates NYC can customize gates and grilles based on customers' style and security preferences and has worked with a variety of New York businesses and homeowners to increase security year-round.
"Whether you're planning a summer getaway or simply want to feel more safe in your home or office, we can help you find the ideal solution for your space that looks good and feels safe," added by Rolling Gate NYC. "Our custom solutions are designed for safety and peace of mind."
About Rolling Gates NYC
Rolling Gates Repair NYC is dedicated to providing the best products and services for New York residents, including installation, repairs and more. Licensed and insured, Rolling Gates NYC's mission is to ensure commitment to quality and professional installations, enhancing its reputation and providing excellent gate performance for both residential and commercial installations. With more than a decade of experience, Rolling Gates NYC has been recognized and appraised by a variety of New York businesses and management companies, including Prada, Gap, Lacoste, Payless and Zara. For more information, please visit Rolling Gate NYC.