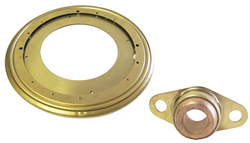 Oshkosh, WI (PRWEB) July 09, 2014
Triangle Manufacturing, a US-based high-volume manufacturer of OEM-specific components, has expanded their capabilities to include brass stampings. Triangle can use brass for their lazy susan bearings, mountings and custom stampings. Triangle utilizes Quarter Hard Brass Strip with a tensile strength of 54,000 PSI that allows for increased strength compared to typical carbon steel.
The benefits of brass are its anti-corrosive nature when compared to steel alloys; it also does not rust as carbon steel can. Due to these high anti-corrosive attributes, brass is an ideal material for marine applications, such as boat seats, or for applications involving water and humidity such as swamp coolers, wash-down food processing machinery, and other product applications that endure water, chemicals or condensation.
Brass is also aesthetically pleasing without the use of paint or coatings. Despite a higher initial cost, brass may be lower in costs when plating, coating, or other finishing services are avoided. Plating and coating processes not only increase the cost, but they add additional lead time and may raise transportation expenses as well.
Purchasing a brass component allows the customer to ship directly and install quickly without waiting for any finishing processes. Brass can offer better protection than a plating alternative under highly corrosive conditions and high-wear applications such as lazy susan bearings.
Triangle also offers standard and custom stamped components in galvanized steel, cold rolled or hot rolled steel, aluminum, high-strength steel or stainless steel.
About Triangle Manufacturing
In business for over 90 years, Triangle Manufacturing is a US-based company that has grown from a small job shop to a high-volume supplier of HVAC motor mounting brackets, mounted bearing assemblies, lazy susan turntable bearings and custom designed rod ends, linkages and creative assemblies. Triangle Manufacturing Company, an ISO 9001:2008 certified company, has used a foundation of experience, paired with technical know-how and advanced automation to be the leader in fully customizable metal fabrication, product innovation and invention.
In addition to a complete bearings and mountings portfolio, Triangle's driving force is creative engineering. We have introduced and redesigned fresh products that are progressive in the agriculture, automotive, HVAC and display industries. With sales offices in Europe, Triangle is poised to supply OEMs anywhere in the world; we're a company with global reach, international customers and a tradition of innovation.
For more information, samples or quotes, visit us at http://www.TriangleOshkosh.com.
Contact:
Kylie McGowan
Marketing Coordinator
http://www.TriangleOshkosh.com
info(at)triangleoshkosh(dot)com